This guide, part of our "Diamond Insights" series, will help you get a good understanding of the 4Cs and assist with choosing your diamond.
Choosing a diamond ring is one of the most important decisions you'll make in your life (no pressure!). And if you've already started looking for your ring, it's likely you've come across the 4Cs of diamonds.
Essentially, the 4Cs – cut, colour, clarity, and carat – are the universal standards for evaluating the quality of a diamond. These characteristics are used because they determine the diamond's overall quality, appearance and price.
Cut, usually regarded as the most important C, refers to the quality of the diamond's angles, proportions, and finish, and the arrangement of its facets. It's the factor that determines how much a diamond will sparkle.
The colour determines the range of colour in the diamond, while the clarity determines how many imperfections a diamond has.
Lastly, carat is used to measure the diamond's weight.
Before we dive into each of the 4Cs, let's get acquainted with the history of the 4Cs and where they originated from.
Origins of the 4Cs
The 4Cs is a term originally coined in 1940 by Robert M. Shipley, the founder of GIA (Gemological Institute of America). His idea was to use a 'mnemonic device' to help his students easily remember the four key qualities of diamonds (cut, colour, clarity, and carat). His legacy was extended by Richard Liddicoat, who helped develop the GIA D-to-Z Colour Scale and the GIA Clarity Scale.
Before the 4Cs were established, there was no standardised system for grading diamonds. As you can imagine, this resulted in significant inconsistency in terms of how diamonds were graded worldwide, which made it hard for merchants to evaluate their products and created confusion in the diamond market as consumers couldn't easily compare diamonds.
GIA's system was simple yet innovative, and it revolutionised the diamond industry. Since then, it's been adopted around the world as the standard for diamond grading.
Unsurprisingly, South African standards authorities like the South African Qualifications Authority (SAQA), and the DIA Grading Laboratory.  also follow the 4Cs standard.
So, what makes the 4Cs so beneficial for the diamond industry and consumers alike?
Why the 4Cs Are Useful
The 4Cs provide a consistent framework for describing and evaluating diamonds.
This grading system is helpful to both diamond sellers and buyers by providing objective and measurable criteria through which diamonds are evaluated.
As a buyer, the 4Cs are one of the most important tools you have to make an informed and confident decisions during the buying process. Whether it's from GIA or another organisation, you should ensure that any diamond you are considering is accompanied by a 'grading report' or 'certificate' that details the diamond's 4Cs.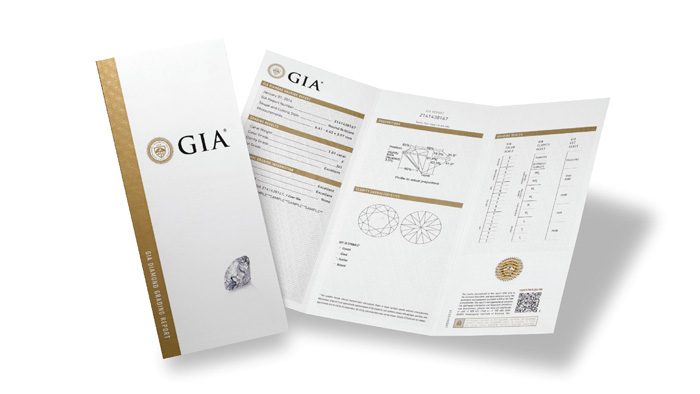 The 4Cs will allow you to understand how changes in the diamond quality affects the appearance of diamonds, while the consistency of the 4Cs also allows you to compare diamonds across different retailers on a like-for-like basis and ensure that you are truly comparing similar stones.
Lastly, the 4Cs give you an easy way to understand how focusing on different aspects of the 'quality' of the diamond can affect the price you will pay.
The Crucial Role of Cut in a Diamond's Brilliance
While it is often misunderstood to refer to a diamond's shape, cut is actually a measure of the proportion, symmetry, and polish of a diamond, and its finishing details.
Тhe quality of a diamond's cut determines the appearance of the diamond facets, which affects a diamond's brilliance, fire, and scintillation (or sparkle). In other words, cut dictates the amount and quality that a diamond sparkles.
A well-cut diamond will reflect the majority of the light up off the bottom facets and back up to the viewer's eyes: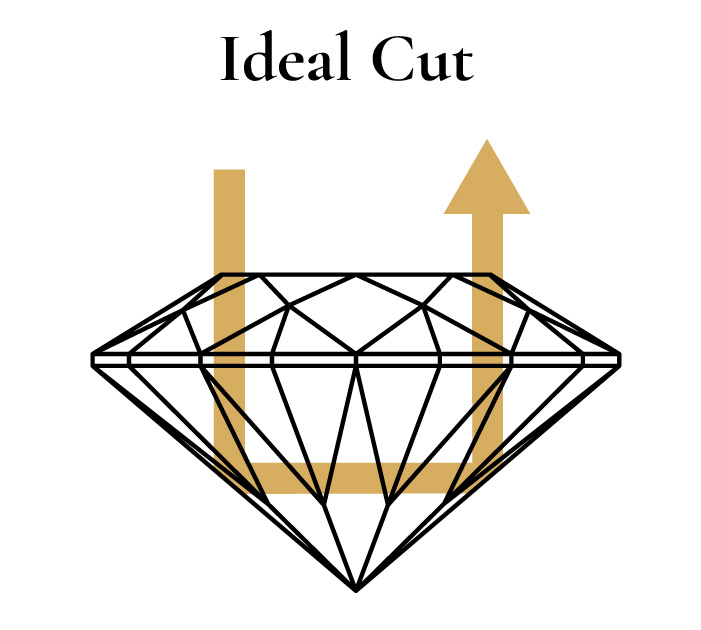 However, if a diamond is either too shallow or too deep, light will be lost and the diamond will sparkle less: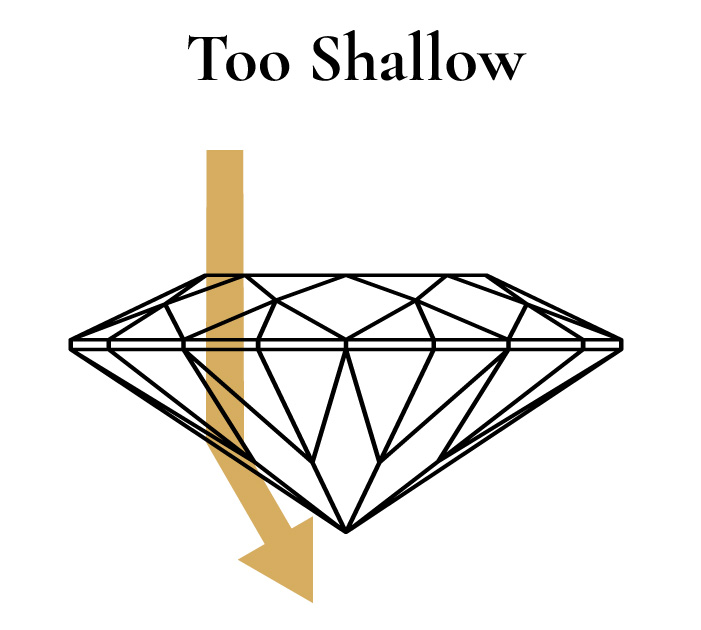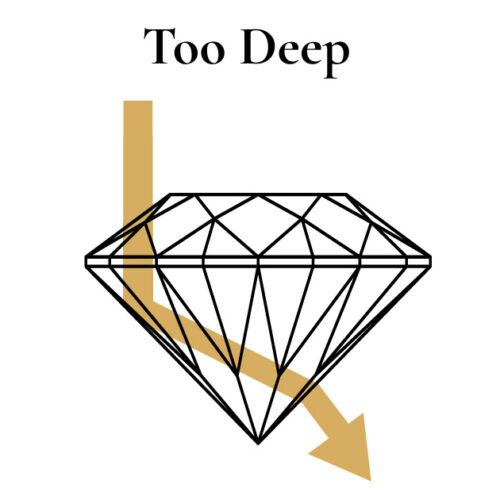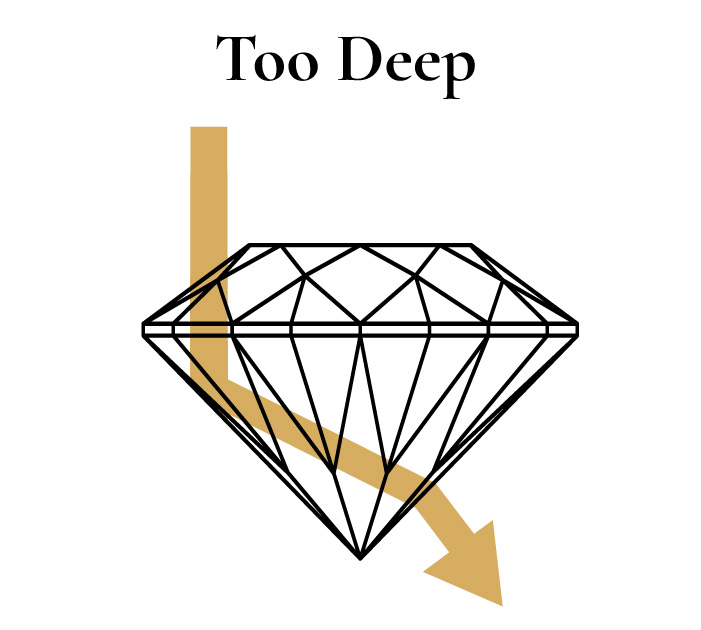 Although personal preferences can influence the ranking of the 4Cs, 'cut' is commonly considered the most crucial because the cut it's the factor the directly affects how effectively the diamond reflects light and therefore how much it sparkles.
There are several factors that determine a cut's quality, such as proportions (including the angles and ratios listed below) its symmetry (how perfectly the facets are aligned in the diamond) and polish (the overall finish).
Most retailers use the GIA Cut Grading System, which has a total of five cut grades:
Excellent (EX)
Very Good (VG)
Good (G)
Fair (F)
Poor (P)
A diamond that's classified as an 'Excellent' cut should be bright with a well-balanced pattern of light and dark and high brilliance. On the other hand, a Poor cut diamond has very little brilliance and sparkle.
Colourless to Yellow: The Diamond Colour Grading Spectrum
Technically, colour is the hue or tint of a diamond.
Practically, diamond colour is a measure of how white or yellow a diamond is, with white diamonds being more rare, more prized and more expensive.
Colour is usually regarded as the second most important C because it is relatively easy to identify if a diamond is overly-yellow, which is generally viewed as undesirable.
In the GIA's measurement scale, diamonds are colour graded on a scale from D to Z: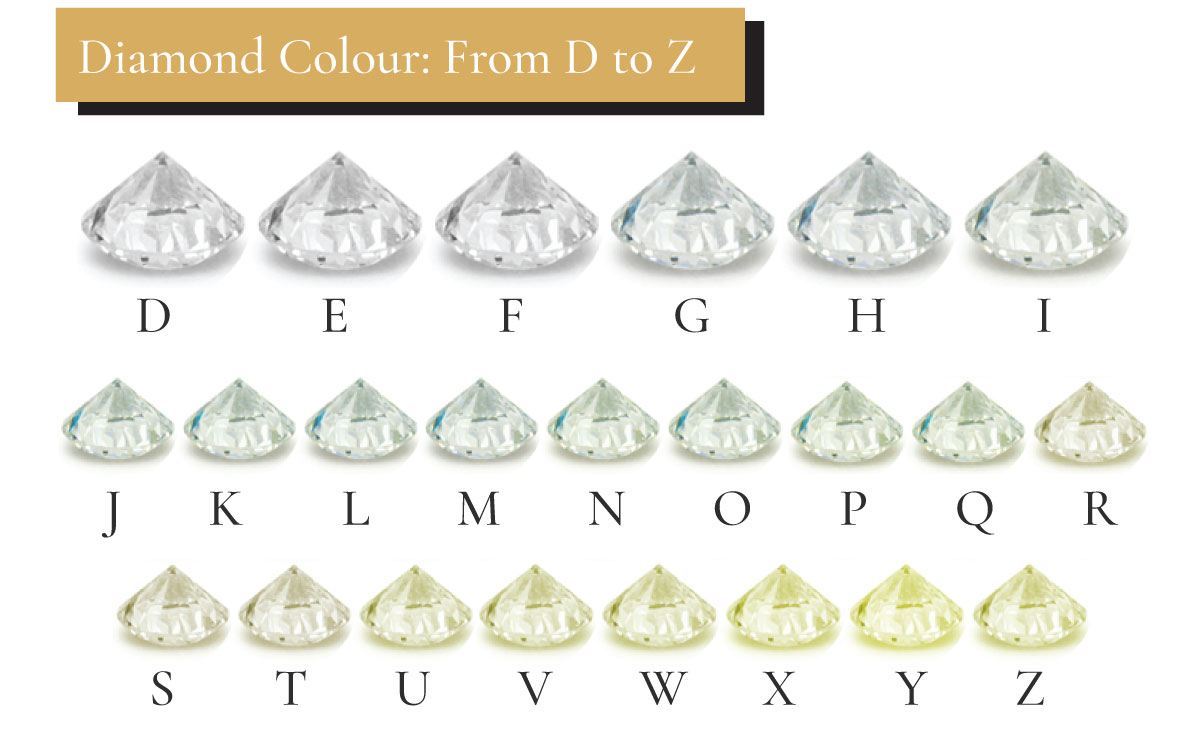 D is perfectly colourless, while Z gives a trace of yellow tint.
Diamonds with D-F grades are classed as colourless – these are the rarest of diamonds, are generally considered the most attractive and are priced the highest.
Diamonds with G-J grades are considered almost colourless. It's not easy to spot the slight trace of colour on a diamond with this grade; to do that, it has to be placed against a white backdrop. To the untrained eye, these diamonds will appear colourless. Diamonds that fall under grades G-J are generally cost-effective and a good option if your budget doesn't allow for completely colourless diamonds.
Diamonds graded K-M have a slight tint and show a trace of colour.
Diamonds that range from N to R are considered to have a very light yellow tint.
Lastly, diamonds graded anywhere from S to Z are considered light yellow on the colour grading scale.
How Clarity Impacts the Beauty of Your Diamond
Diamond clarity is the absence or presence of flaws or imperfections in a diamond.
These imperfections are acquired during the growth process of a diamond and are the result of the extreme pressure and heat the diamonds endure. They can not only affect a diamond's appearance, but in extreme cases can also affect their durability.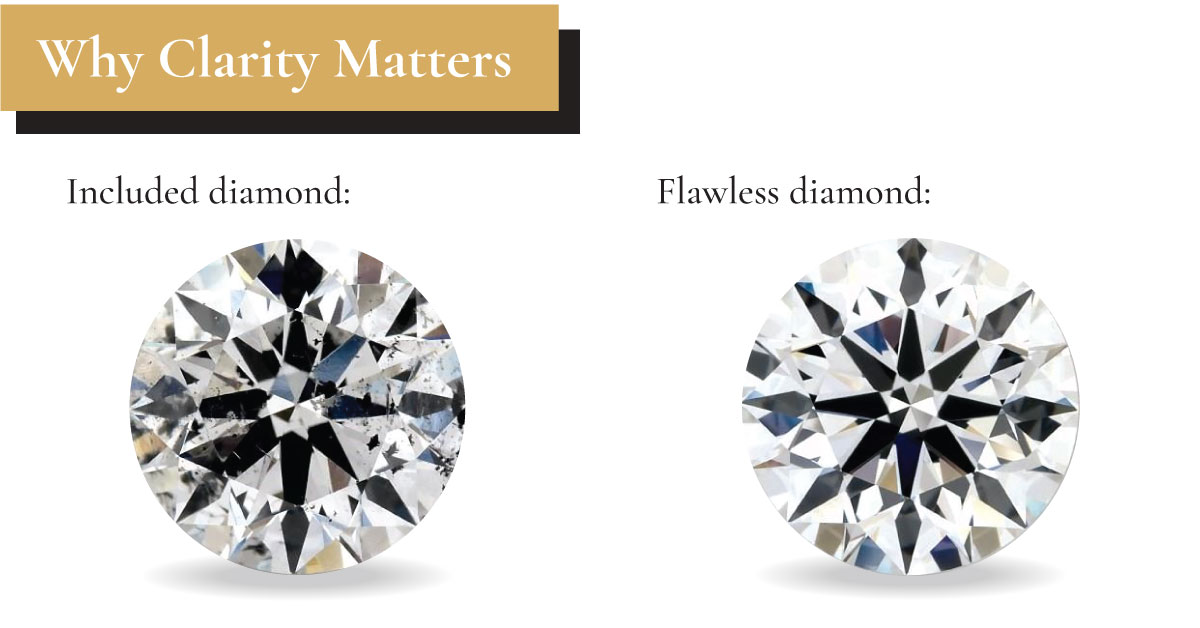 Clarity is generally viewed as the third most important C because many inclusions and blemishes are not visible to the naked eye, especially in diamonds that are rated SI (Slightly Included) or better. This means that, for many buyers, paying a premium for a diamond with higher clarity that they can't actually appreciate without magnification may not seem worthwhile.
The clarity scale for diamonds ranges from Flawless (FL) to Included (I3)

Flawless (FL) diamonds are completely pure and contain no imperfections. As the name suggests, these diamonds are considered the rarest and the most valuable.
Internally Flawless (IF) are near-perfect diamonds – they don't contain any visible imperfections. Minor flaws in the diamond can only be spotted when it is magnified.
Very Very Slightly Included 1 (VVS1) and Very Very Slightly Included 2 (VVS2) – similarly to Internally Flawless diamonds, these types of diamonds don't contain visible imperfections. Only trained experts using magnification are able to discern some minor inclusions.
Very Slightly Included 1 (VS1) and Very Slightly Included 2 (VS2) diamonds contain visible imperfections that are somewhat hard to spot. At a glance, they appear flawless, but under close analysis, slight inclusions can be detected.
Slightly Included 1 (SI1), Slightly Included 2 (SI2), and Slightly Included 3 (SI3) diamonds contain small imperfections that can be easily observed by anyone familiar with diamond clarity.
Lastly, Included 1 (I1), Included 2 (I2), and Included 3 (I3) diamonds have inclusions that are visible without magnification, even to the untrained eye. The clarity of these diamonds also affects their quality, so they're not as durable as F or IF diamonds. With that said, they are the most affordable option.
What Does Carat Really Mean?
Weight vs. Size
The last of the 4Cs is the diamond carat weight, which affects the diamond's perceived size and, to many, its prestige.
Carat is listed here as the fourth most important C because it contributes to the size, rather than than the beauty of a diamond.

Generally speaking, a large diamond with poor cut, colour, and clarity is viewed as less desirable than a smaller diamond with excellent cut, color, and clarity. A poorly cut diamond may be dull, lifeless, or visibly flawed, while a smaller, well-cut diamond can have fire, brilliance, and sparkle.
While carat weight doesn't directly affect a diamond's sparkle, it is one of the biggest determinants of a diamond's price, with prices rising exponentially with carat weight.
For instance, a 2 carat diamond of a given quality is much more than twice as expensive as a 1 carat diamond of the same quality.
A 1-carat round diamond with excellent cut, J colour and VS1 clarity from a South African diamond specialist may be priced around R76,000, while a 2-carat diamond of the same quality may be closer to R355,000.
What to Look For
Here are some green flags to consider when purchasing a diamond.
Make sure that any diamonds you consider have been graded by a reputable authority to ensure you can rely on an accurate and objective evaluation of the diamond's characteristics.
Try to find a balance between each of the diamond qualities – it's not recommended that you prioritise one quality at the expense of the others.
If possible, choose a diamond that has been graded 'excellent' on the diamond cut scale – this will make it more likely that your diamond sparkles brilliantly.
What to Watch Out For
Conversely, these are some of the red flags to watch out for when purchasing a diamond.
While carat weight is important, be cautious of diamonds that prioritise size over other quality factors. A large diamond with poor cut, colour, and clarity may lack brilliance and overall attractiveness
Be cautious of sellers offering diamonds at significantly lower prices than the market average. If a deal seems too good to be true, it's essential to exercise caution and ensure the authenticity and quality of the diamond. Stick to reputable and trusted sellers.
A reputable seller should provide clear and detailed information about the diamond's 4Cs, including its certification, cut grade, colour grade, clarity grade, and carat weight. If a seller hesitates to provide this information or seems evasive, it's a red flag that the diamond may not meet the desired standards.
If you're interested in reading a thorough deep dive into every diamond quality, we recommend that you read our comprehensive articles on each of the 4Cs of a diamond: