When shopping for an engagement ring, one of the most critical aspects to consider is the diamond's 'cut' quality.
A diamond's cut is what determines how much light it reflects and therefore how much it sparkles.
Of the 4C's that determine a diamond's value – Cut, Colour, Clarity and Carat Weight, the Cut is probably the most under-estimated and yet has the biggest impact on the sparkle of a diamond.
Part of Jewellery South Africa's "Diamonds Insights" series, this guide will cover all the intricacies of diamond cut and help you find the best diamond cut grade for your needs and budget. 
You'll also learn the main components that contribute to a diamond's sparkle and what to watch out for when making the decision on which diamond is the best choice for you.
Key takeaways:
Diamond cut is not the shape of a diamond, but rather a measure of how well a diamond has been crafted and how well it will interact with light.
The universally accepted GIA diamond cut grading scale consists of five grades: Excellent, Very Good, Good, Fair, and Poor.
Experts consider several parameters when grading a diamond's cut, such as proportions, pattern, polish, weight ratio, and symmetry.
What is Diamond Cut Quality?
Although diamond shape and diamond cut are often used interchangeably, when we talk about 'cut' as part of the 4Cs, we are referring to how well the diamond has been shaped and polished into its final form, not the actual shape of the stone (round, oval, pear, etc.).
The quality of a diamond's cut is incredibly important because it greatly influences how the diamond interacts with light, which contributes to its brilliance (how much light the diamond reflects), fire (the dispersion of light into the colours of the spectrum), and scintillation (the flashes of light, or sparkle, when the diamond is moved).
Essentially, diamond cut quality refers to the skill and precision with which a diamond has been shaped and faceted into its final form, from the rough diamond that is either mined or created using 'lab grown' processes to the final gem that will feature in jewellery: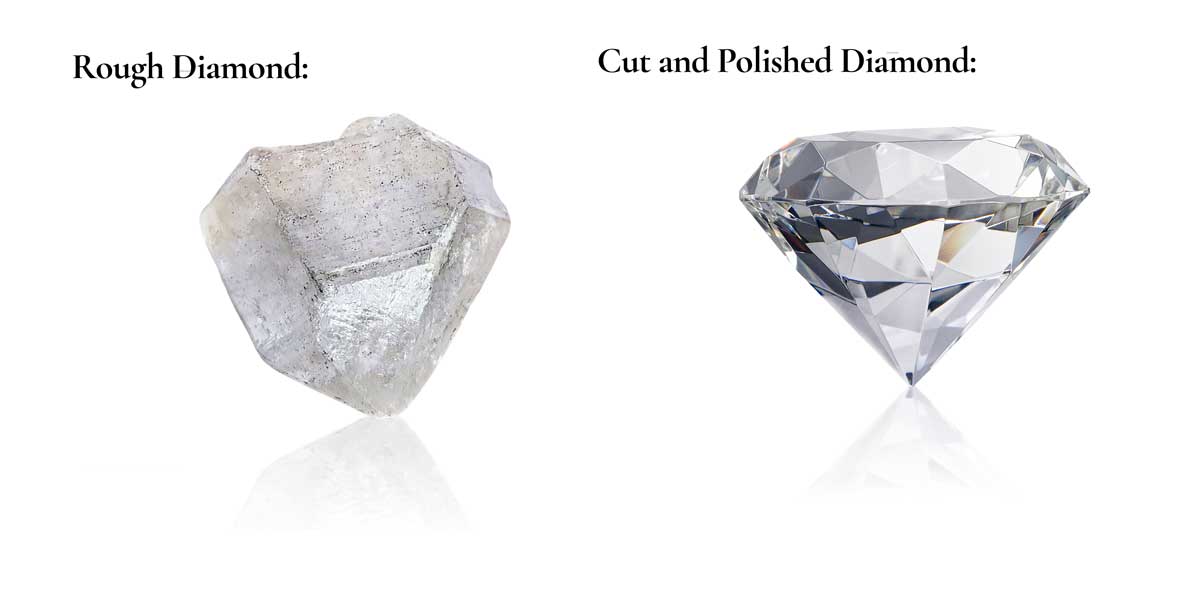 While there is a lot of technology involved, cutting and polishing a diamond from a rough stone to a brilliant gem is still a manual process and as a result there can be considerable variation in the final proportions of diamonds and the quality of the finish. Collectively, this is known as the diamond's 'make'.
Diamond cut may seem a little overwhelming when you first begin to learn about it, but as with the other 4Cs, it's something that is measured and graded by independent laboratories, which means that making your decision is much easier.
The Importance Of Proportions
Proportions refer to the various dimensions of the diamond, such as table size, crown angle, and pavilion depth.
These proportions affect how well a diamond reflects and refracts light, which in turn influences its overall appearance and value.

If a diamond is cut just right, light will be transmitted through the top table (flat area on top of the diamond), be reflected from the bottom 'pavilion' facets, and transmitted back through the table and top 'crown' facets in the form of brilliant sparkle.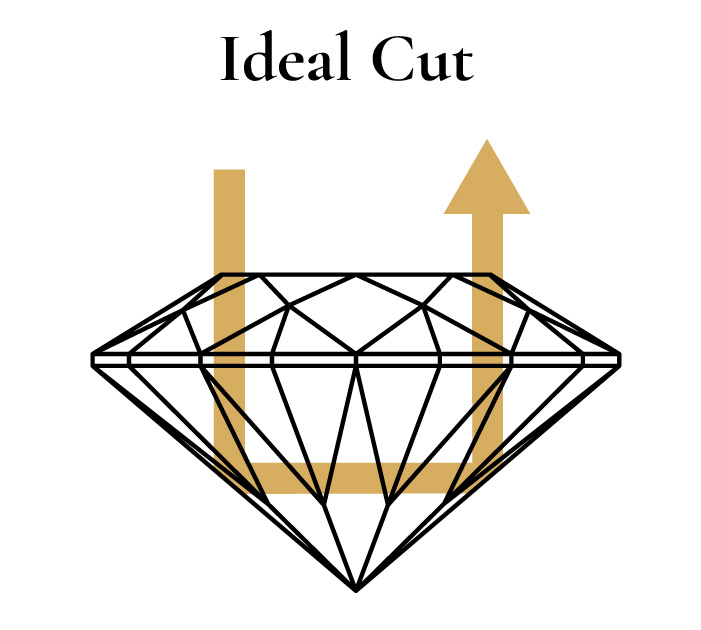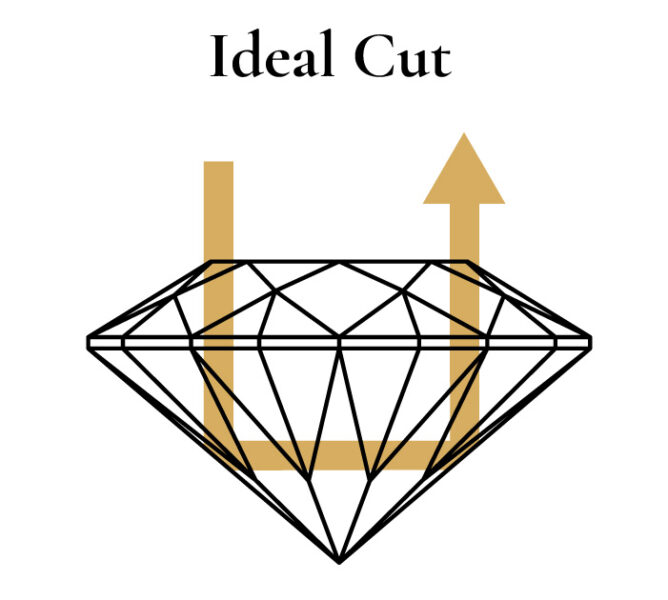 When a diamond is well-cut, light will enter the diamond, reflect off of the interior facets (the small, flat surfaces you see when you look at a diamond), and then reflect back out of the top of the diamond to your eye as 'sparkle'.
If the diamond is cut to be overly shallow, light will be able to travel all the way through the bottom facets and be lost, reducing the sparkle.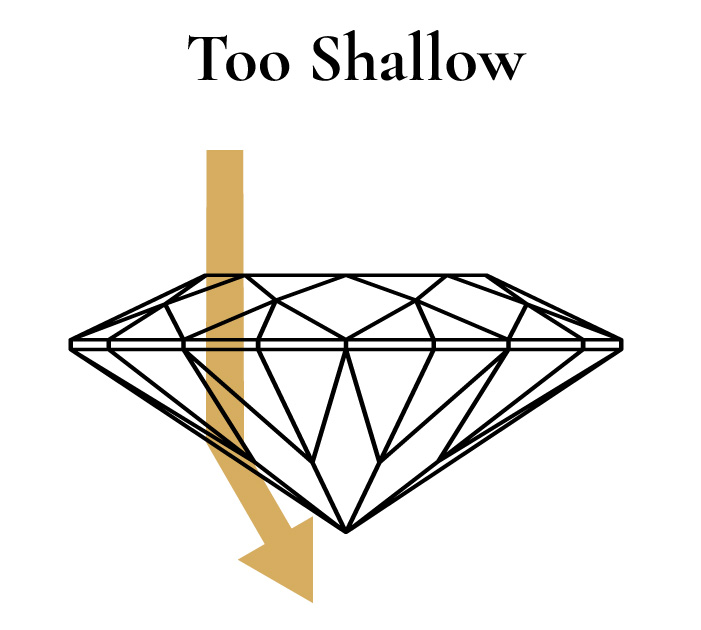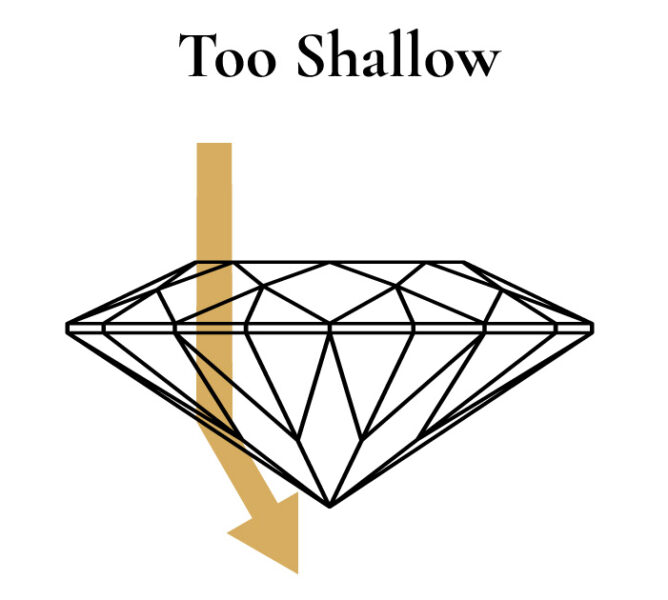 If the diamond is cut to be too deep, light will be reflected at the wrong angle and will be transmitted from the side of the diamond, reducing the sparkle. The diamond may appear darker in the centre. Deeper diamonds also look smaller when viewed from above as well, which is undesirable.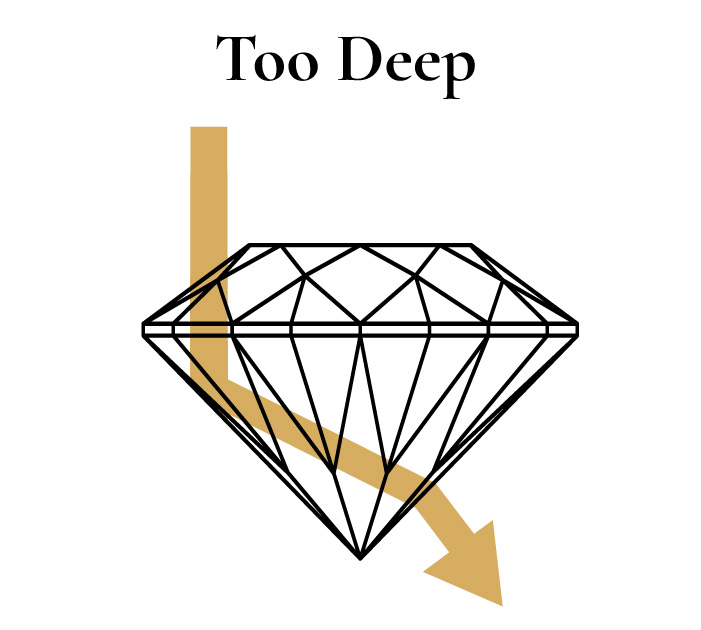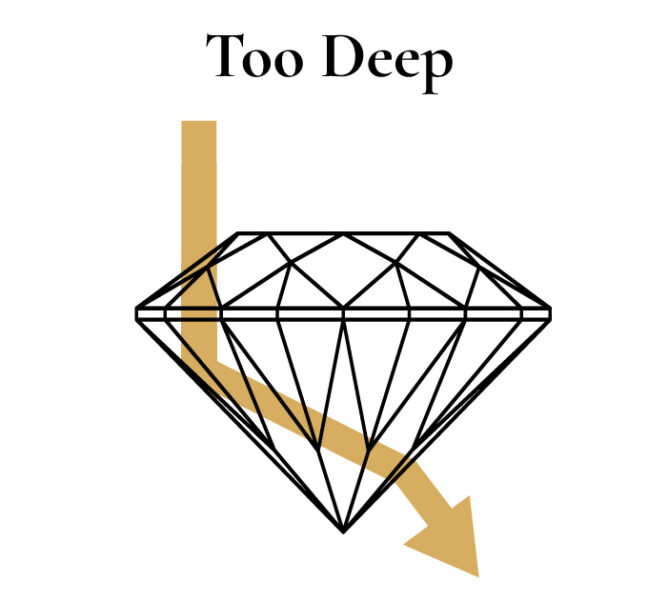 Cut Quality's Effect On Your Diamond
As we mentioned earlier, diamond cut refers to how well the diamond interacts with light. Three main components contribute to how greatly a stone shines: brilliance, fire, and scintillation.
Brilliance is a measure of how much light a diamond reflects, which determines how much it sparkles. A diamond's brilliance depends on the interplay of light between its facets of a diamond, enhanced by a precise and symmetrical cut, creating the intense brightness that diamonds are prized for.
The three examples below show three cut grades which have all been graded at the top 'D' colour.
As the cut grade improves, so too does the diamond's brilliance – the diamond reflects more light, so looks brighter and whiter.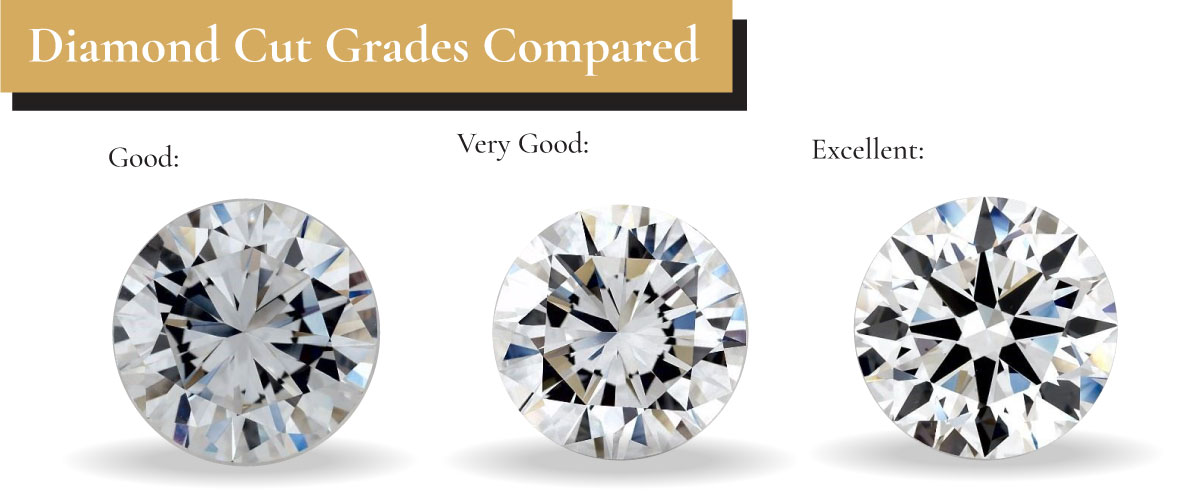 Fire refers to the rainbow of colours you see in a diamond when light passes through it, similar to the effect you see when light goes through a prism and splits into different colours. In a diamond, this happens when light slows down and bends as it enters the stone, separating into a spectrum of colours and displaying flashes of red, blue, green and more.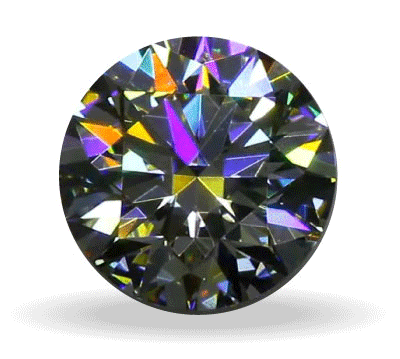 Scintillation comprises two aspects: the sparkle seen under light as the diamond moves, and the pattern of light and dark areas caused by internal and external reflections within the diamond.
A diamond with a high degree of scintillation will appear to 'twinkle':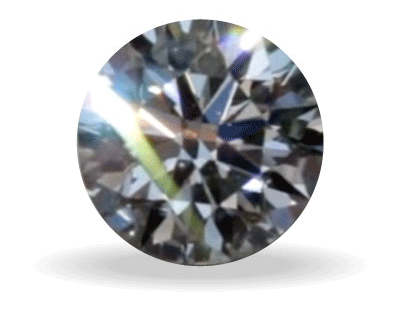 Each of these three factors contribute to a diamond's 'sparkle', and choosing a diamond that doesn't prioritise cut grade can result in a stone that looks dull and lifeless.
Diamond Cut Grades
The GIA evaluates a diamond's cut grade based on its pattern, contrast, scintillation, pavilion depth, durability, polish, weight ratio, and symmetry.
There are five grades in total:
Excellent
Very Good
Good
Fair
Poor
When you look on a diamond grading report, this will be listed together with the other '4Cs':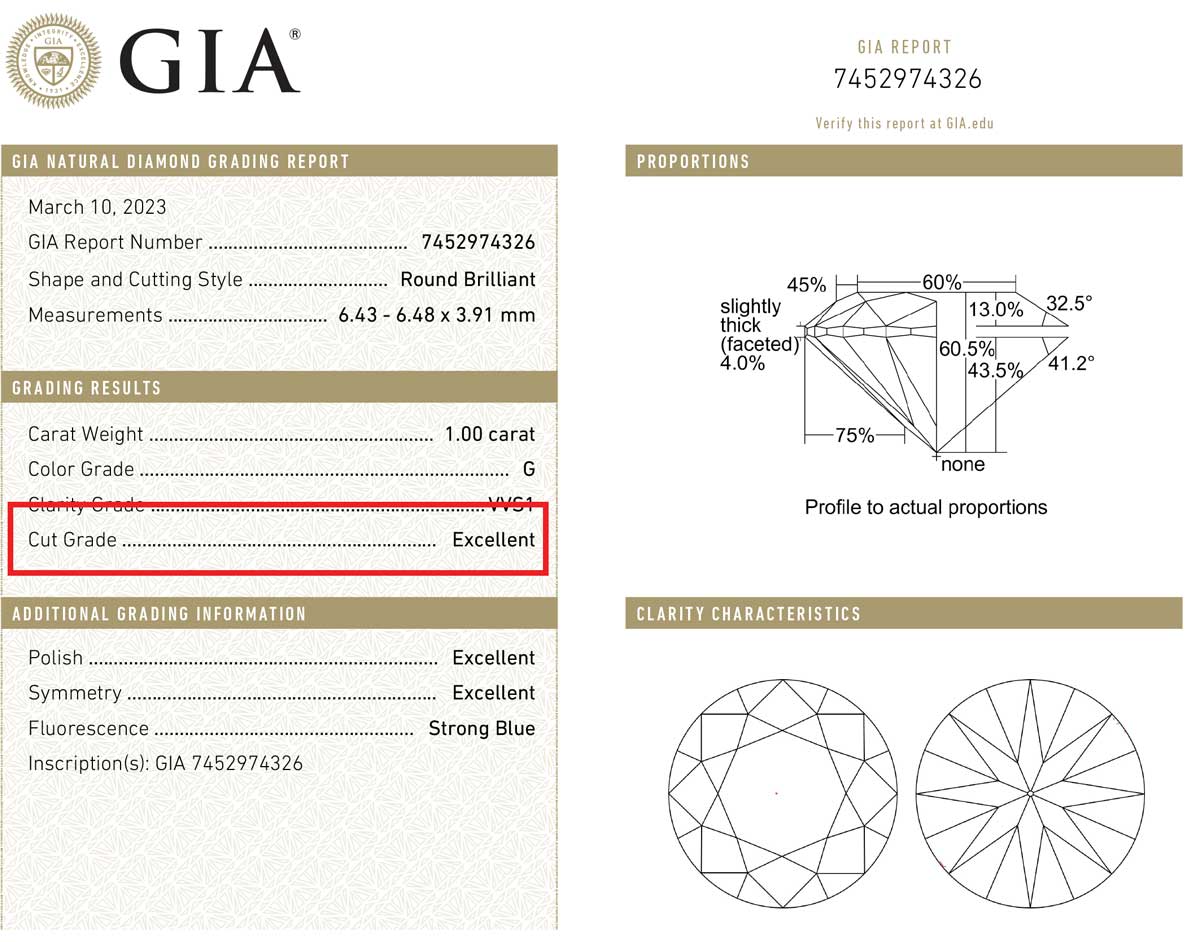 Excellent: This grade represents the top tier of diamond cuts. These diamonds reflect nearly all light that enters them, creating exceptional sparkle and brilliance. The craftsmanship, including polish and symmetry, is of the highest quality.
Very Good: Diamonds of this grade still have high-quality cuts and reflect much of the light that enters them. The craftsmanship is high quality. They might not be as brilliant as Excellent cuts, but they're often much less expensive and can be great value for money.
Good: These diamonds reflect a majority of the light that enters them. The cut quality is still above average, meaning they still have quite a bit of brilliance. Choosing a Good cut can save money without sacrificing too much on the diamond's appearance.
Fair: Diamonds with a Fair cut grade reflect only a reasonable amount of light. They're noticeably less brilliant than higher cut grades. While still beautiful, these diamonds might appear slightly dull, especially if they're larger.
Poor: These diamonds reflect only a small proportion of the light that enters them. The cut proportions are usually far from the ideal range, resulting in a lack of brilliance and fire. They are noticeably duller and less lively than diamonds of higher cut grades.
Factors Influencing Diamond Cut Grade
There are several parameters experts take into account when grading a diamond's cut, including: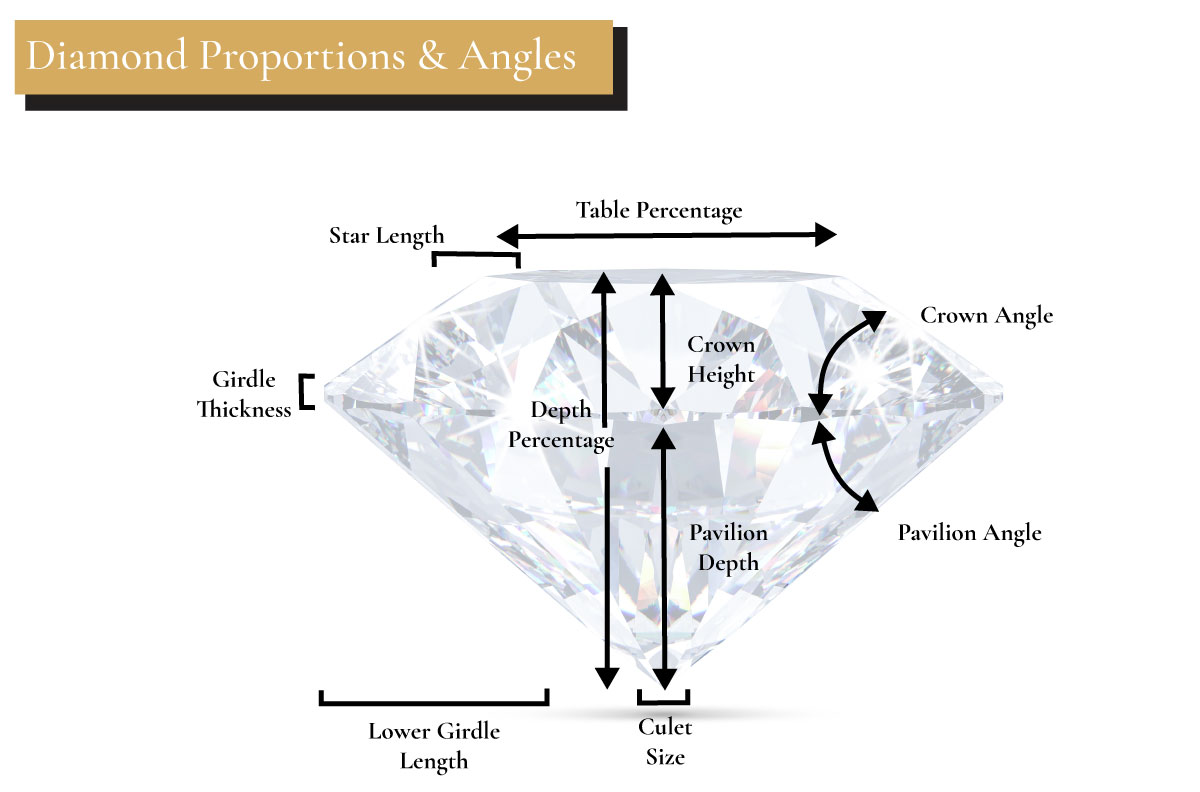 As a diamond buyer, you don't necessarily need to understand what each of these are and the effect they have on a diamond's 'light performance', but an explanation of each is below:
Table Percentage
The table ratio of a diamond refers to the width of the top flat facet of the diamond, known as the "table", expressed as a percentage of the diamond's overall width (the diameter for round diamonds).
For example, if a diamond's table measures 5 mm across and the total width of the diamond is 10 mm, the table ratio would be 50%.
This ratio is one of the key factors considered when grading a diamond's cut. It's important because it can affect how light is refracted within the diamond, and thus how much the diamond sparkles. A table that is too large or too small can impact the balance of brilliance, fire, and scintillation in a diamond.
The ideal table percentage can vary depending on the shape of the diamond, but for round diamonds, it's typically between 54% and 57%. It's worth noting that while these are considered "ideal" percentages, diamonds with slightly larger or smaller tables can still be beautiful and may be preferred by some people based on individual taste.
Depth Percentage
This is the height of the diamond (from the culet, or bottom tip, to the table) divided by the width of the diamond. The ideal depth percentage varies based on the shape of the diamond, but for round diamonds, it's usually between 59% and 62.5%.
Crown Angle
This is the angle at which the diamond's crown (the top part above the girdle or widest part) slopes away from the table. The crown angle significantly influences the diamond's fire and brilliance. For round diamonds, the crown angle should ideally be between 34 and 35 degrees.
Pavilion Depth
This is the depth of the pavilion (the bottom part below the girdle) divided by the width of the diamond. The pavilion depth affects the diamond's brilliance. For round diamonds, it's ideally between 43.1% and 43.2%.
Girdle Thickness
The girdle is the widest part of the diamond, serving as the boundary between the crown and pavilion. Its thickness can range from extremely thin to extremely thick. While it doesn't significantly impact light performance, a girdle that's too thin can make the diamond prone to chipping, and one that's too thick can unnecessarily increase the diamond's weight.
Culet Size
The culet is the small facet at the bottom of the diamond. Ideally, it should be small or nonexistent (termed "none" or "pointed" in grading reports) to prevent light from escaping out the bottom of the diamond.
Proportions are shown on a Grading Report
If a diamond you are considering purchasing is accompanied by a grading report from GIA, IGI or a similar organisation, its proportions will be displayed: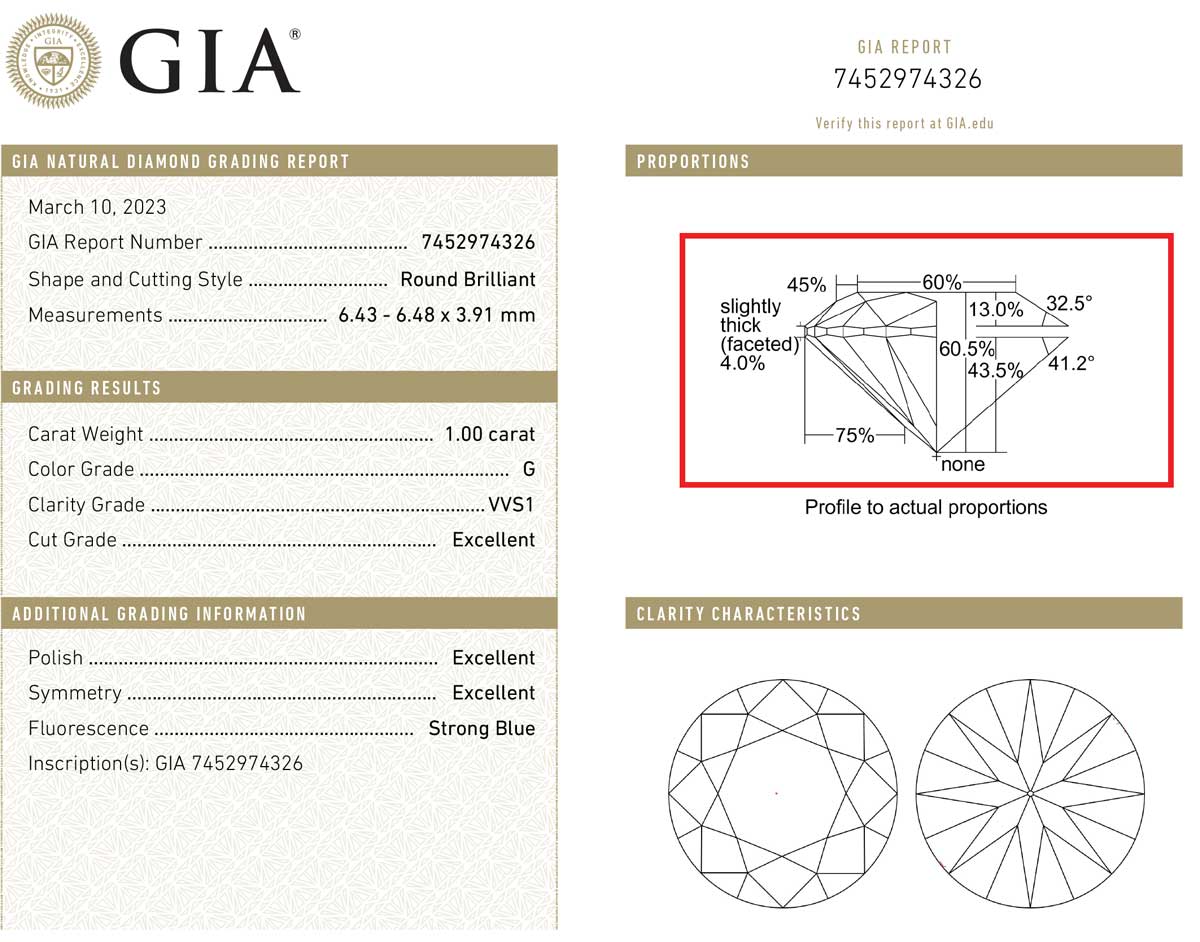 These precise measurements can be useful for those who want to ensure that a diamond has a particular set of proportions, but for most people, the cut grade, as assigned by the grading lab, is sufficient.
Diamond Symmetry
Diamond symmetry refers to the arrangement and alignment of a diamond's facets, as well as the overall balance and proportionality of its shape. It is basically an evaluation of how precisely the facets of a diamond are aligned with one another, and is graded on the poor – excellent scale, just like diamond cut.
Symmetry is important because the better the symmetry of a diamond is, the more accurately the facets interact with light, which means less light is lost and more can be returned back to your eye as sparkle, brilliance and fire.
Diamond Polish
The final factor relating to cut that will appear on a diamond's certification is a 'polish', which is a measure of the quality of the surface finish on a diamond. When a diamond is cut and shaped, the cutter polishes the facets (or faces) of the diamond to remove any surface imperfections, such as scratches or nicks, and to give the diamond a smooth, reflective surface.
As with the overall diamond cut grade, polish is graded from "Excellent" to "Poor." While having a high polish grade can enhance the beauty and sparkle of a diamond, it is generally regarded as a more minor factor as differences in polish grades are not easily noticeable to the unaided eye, especially when the diamond is set in a piece of jewellery.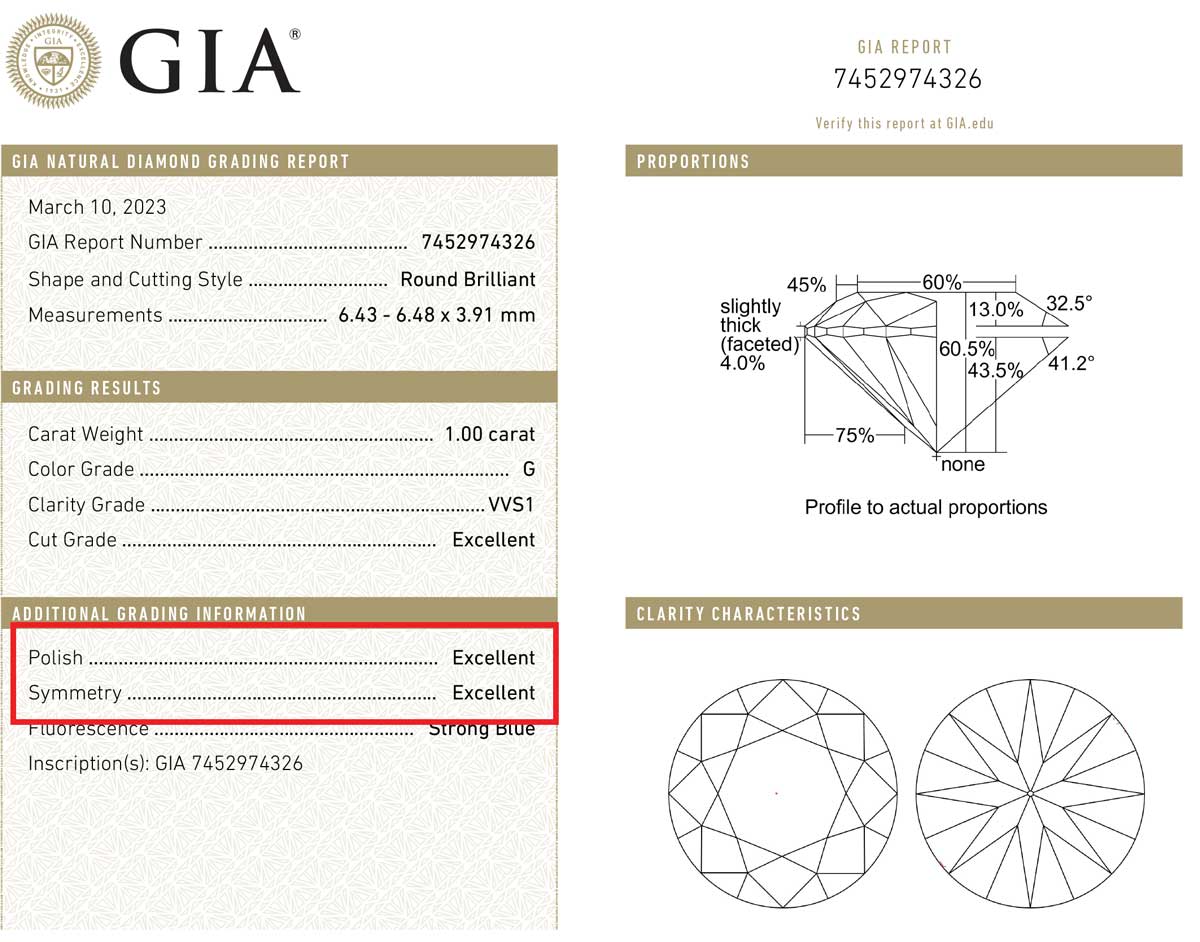 While polish and symmetry aren't strictly part of the 'cut' criteria, some people do place importance on obtaining a 'Triple X' diamond:
Excellent cut
Excellent symmetry
Excellent polish
Triple X diamonds are seen by some as representing the highest level of craftsmanship and attention to detail.
Diamond Cut Grade Only Applies To Round Diamonds
One important thing to know is that GIA only assigns a cut grade to round diamonds – other shapes, such as oval, cushion or marquise won't have 'cut' listed on their grading report.
Even though they might not have a formal cut grade, non-round shapes (also known as "fancy" shapes) are still cut with the primary goal of maximising brilliance, fire and scintillation.
While 'fancy' shaped diamonds (such as pear, oval, marquise, cushion, etc.) aren't given a grade for overall diamond cut quality, they are given a grade for symmetry. For these shapes, symmetry can be more subjective and less standardised, but is still important in determining the overall beauty and light performance. Misaligned or uneven facets can create dark areas, called "bow-tie" or "butterfly" effects, which may diminish the diamond's overall appeal.
The specific proportions and facet arrangements may vary depending on the diamond shape, but the overall objective of maximising light performance remains the same.
Princess cut diamond: Look for a Look for a depth percentage between 68% and 75% and a table percentage between 62% and 68% length-to-width ratio of around 1:1, with even facet alignment and sharp corners.
Emerald: Aim for a length-to-width ratio of 1.3:1 to 1.5:1, with parallel step facets and even corners.
Oval: Look for a length-to-width ratio of about 1.35:1 to 1.5:1, with an even outline and well-balanced facets.
Cushion cut: Opt for a length-to-width ratio of 1:1 for a square cushion or 1.1:1 to 1.3:1 for a rectangular cushion, with a symmetrical outline and consistent facet arrangement.
Pear: Look for a length-to-width ratio of around 1.5:1 to 1.75:1, with a well-rounded base and smooth, even curves.
How Diamond Cut Affects Price
Well-cut diamonds are more beautiful, less common, require more time to be invested in the polishing process, and can also require more material to be removed from the original rough diamond than diamonds with poorer proportions and cut grades.
As may be expected, the higher the diamond cut grade, the more expensive the diamond.
To demonstrate, we'll use an example of a 1-carat, G-coloured, VS1 diamond from a South African retailer which offers diamonds with cut grades from Good to Excellent.
The diamond graded 'Good' for diamond cut is priced at R81,788: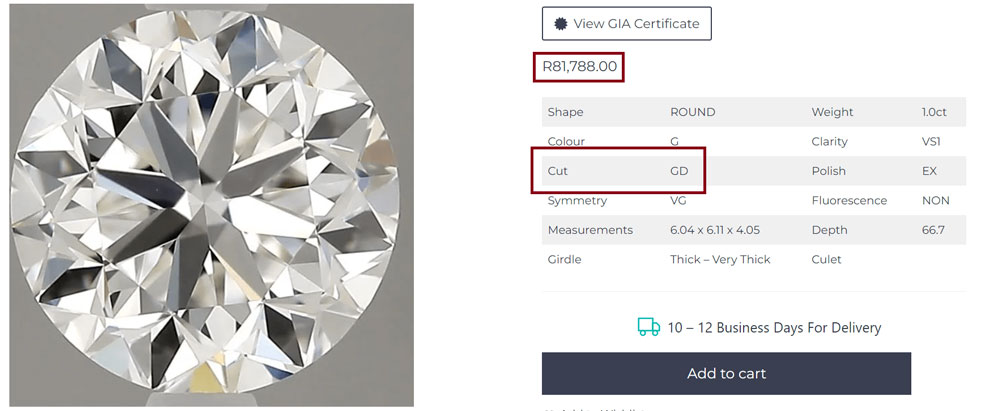 The diamond with an Excellent cut is priced at R97,200: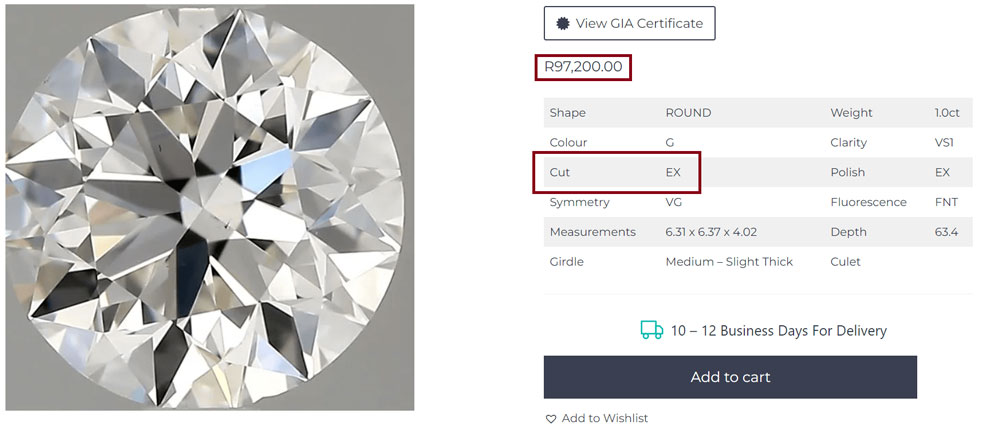 We can see that the increase in price between each cut grade for this carat weight, colour and clarity is fairly even:
| Cut grade | Price (ZAR) |
| --- | --- |
| Good | R81,788 |
| Very Good | R93,697 |
| Excellent | R97,200 |
At each cut garage there is a significant increase in cost, but for most people the investment in a higher cut grade is worth it due to the huge impact it makes to a diamond's sparkle.
Diamond Cut Grading in South Africa: What You Need to Know
When you're purchasing diamonds in South Africa, there are some specific considerations to keep in mind.
Among the things you should consider are local certification and grading standards and how these may differ from GIA. In South Africa, the most popular diamond grading labs are the Gemological Institute of America (GIA), the European Gemological Laboratory (EGL), the South African Qualifications Authority (SAQA), and the DIA Grading Laboratory. 
It's common for different diamond grading labs to have slightly different criteria or methods for grading diamonds than international grading labs, which can affect the consistency with GIA and other more common grading reports.
If a diamond you are considering is accompanied by a grading report from a South African lab, it's always a good idea to discuss cut grades with your jeweller to ensure that it matches your expectations.
Common Diamond Cut Issues
When shopping for a diamond, be aware of common cutting issues that can negatively affect a diamond's appearance and value. These issues include:
Too shallow or too deep cut: A diamond cut too shallow or too deep will not reflect light optimally, reducing the amount of light it reflects and resulting in a lack of brilliance and fire.
Poor symmetry: A diamond with poor symmetry will have misaligned or uneven facets, reducing its overall light performance and beauty.
Off-centre culet: An off-centre culet (the small point at the bottom of a diamond) can cause the diamond to appear unbalanced and negatively affect its light performance.
To avoid these issues, closely examine the diamond's proportions, symmetry, and overall appearance. Consult with an expert and refer to the diamond's certification to ensure its cut quality meets what you are looking for.
Choosing the Right Cut Quality for Your Engagement Ring
When selecting the diamond cut quality for your engagement ring, there are many factors to consider – personal preferences, budget, and desired diamond characteristics. Here are some general guidelines to help get a great looking diamond.
Prioritise cut quality: Cut quality plays a significant role in determining a diamond's overall beauty as it's the main thing that determines how much the diamond will sparkle. It's generally accepted to be the most important of the 4Cs.
Consider your budget: While a higher cut grade may be more desirable, it's essential to balance this preference with your budget. You may need to compromise on other factors, such as carat weight or clarity, to afford a diamond with a better cut quality.
Understand the ideal proportions for fancy shapes: If you're interested in a fancy shaped diamond, research the ideal proportions for that specific shape to ensure optimal light performance and beauty.
Seek expert advice: Consult with a knowledgeable jeweller or gemologist who can guide you in selecting a diamond with the best cut quality for your budget and preferences.