When it comes to the four Cs of diamonds – cut, color, clarity, and carat – the carat is perhaps the most well-known, but also the most misunderstood.
Many people tend to confuse a diamond's carat with its size, but in reality, carat refers to the weight of the diamond, not its physical size.
Diamonds with a higher carat weight are rarer and, as a result, are more valued and more expensive. However, it's essential to remember that the carat weight is just one aspect of a diamond's overall appeal. It should be evaluated in conjunction with the diamond's cut, color, and clarity.
Understanding the interplay between these four qualities – the 4Cs – can make the task of finding the perfect diamond less daunting. That's where our guide comes in. As part of Jewellery South Africa's "Discovering Diamonds" series, this guide aims to demystify the concept of diamond carat, helping you make your purchase more confidently.
Key takeaways:
Weight vs Size: Carat is the diamond's weight, not size. A lower carat can appear larger due to distribution of weight in length, width, and depth.
Carat Measurement and Price: One carat equals 0.2 grams. Price increases with carat weight, but not linearly due to the rarity of larger diamonds.
Lab-Grown vs Natural Diamonds: Lab-grown diamonds, priced 40-60% lower than natural ones, offer higher carat for the same price but may have lower resale values. Choice depends on personal preference.
Busting The Myth: Why Diamond Carat Isn't The Same As Diamond Size
While it's understandable that people may get confused between diamond carat and size, it's important to make the distinction, as a diamond with a lower carat weight can sometimes appear larger than one with a higher weight.
This is because diamond carat weight is spread through the entire volume of a diamond – its length, width, and depth.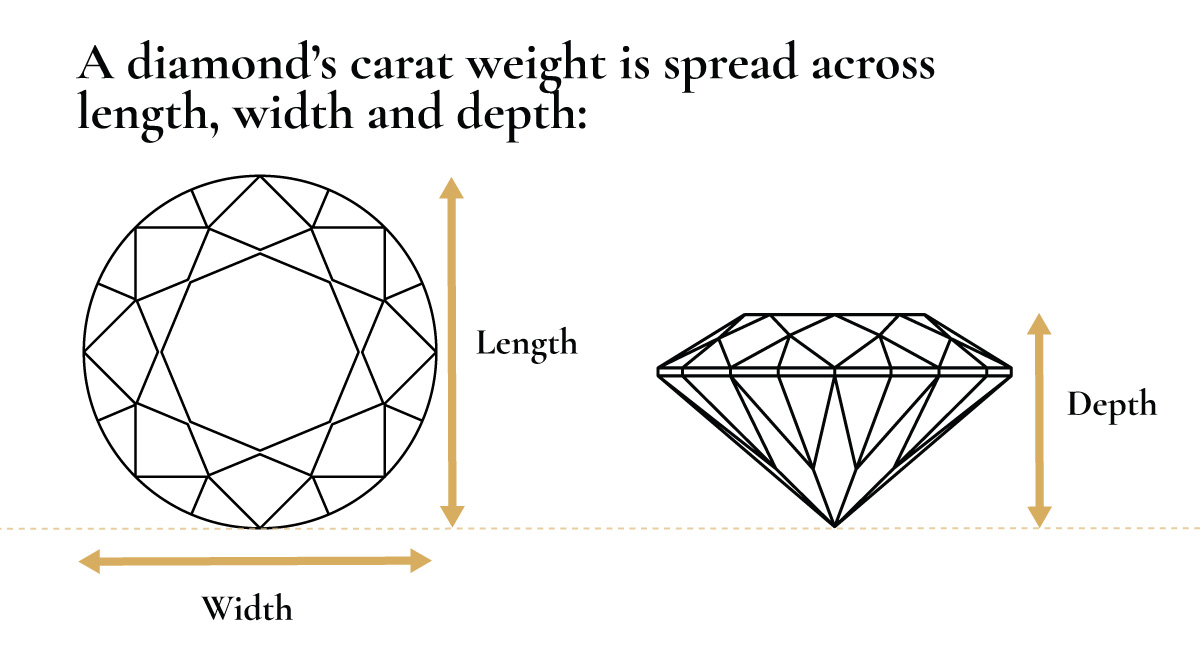 When a diamond is mounted into jewellery, we generally just look at it from the top and therefore judge its size on the length and width of the stone.
From the 'top down' perspective we don't see how deep it is, but depth is an important factor in how big a diamond will look from above.
If a diamond is cut to be very deep, this means that there is less of the diamond material to contribute to the visible size of the stone.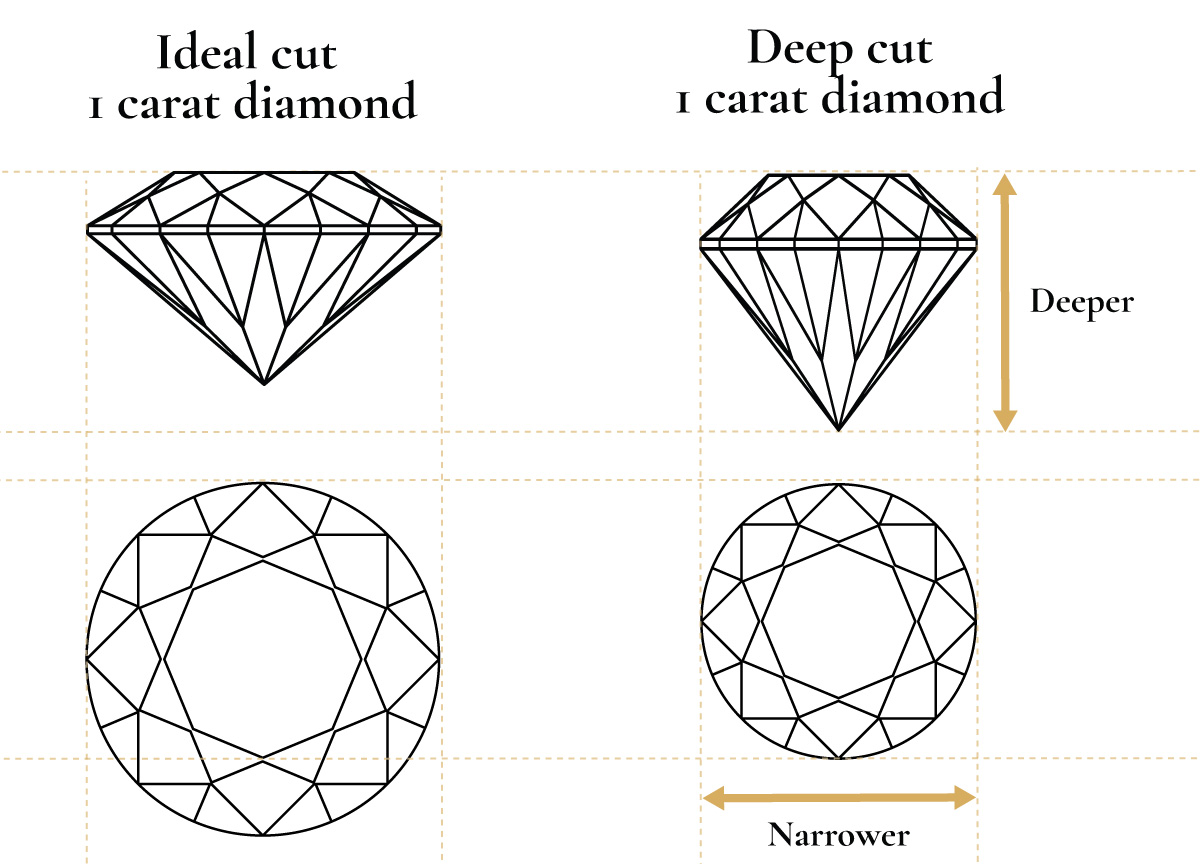 It's important to, therefore, always check the dimensions of a diamond to ensure that it 'faces up' at a size that compares favourably to others at the same carat weight.
Now, that we've looked at what a diamond carat isn't, let's look at what it is.
What Is a Diamond Carat and How Is It Measured?
One carat equals approximately 0.2 grams or 200 milligrams, with each carat divided into 100 equal parts called points.
Diamonds are actually weighed to the hundredth (.01) of a carat, with values given to two decimal points.
A half carat is often referred to as '50 points' or a '50 pointer' within the jewellery trade. If a diamond weighs 1/10th of a carat, it'll be referred to as 0.10 carats or 10 points.
The term "carat" originates from the Greek and Arabic words for the carob tree – Keration in Greek and Qirrat in Arabic.
In the Middle Ages, merchants used dried carob seeds to weigh diamonds and gold, which is why the term "carat" is used across both. After realising that each carob seed had a different weight, making their measuring technique inconsistent, merchants started looking for new ways to measure carat.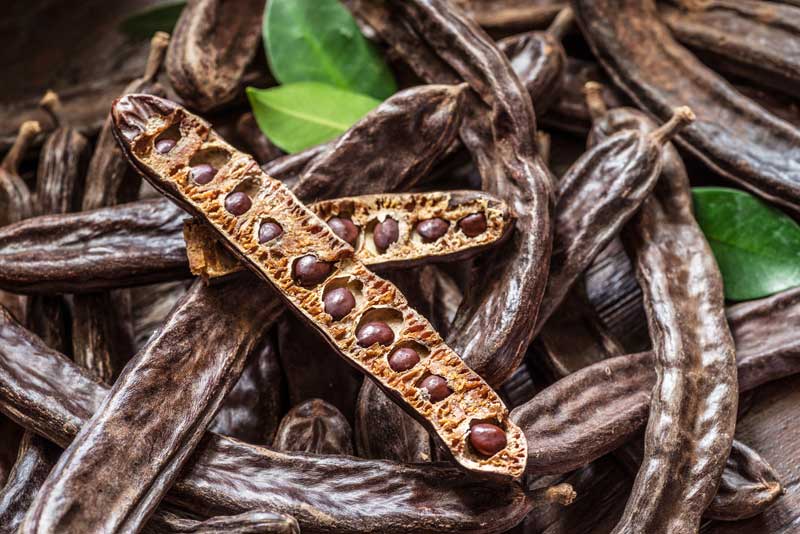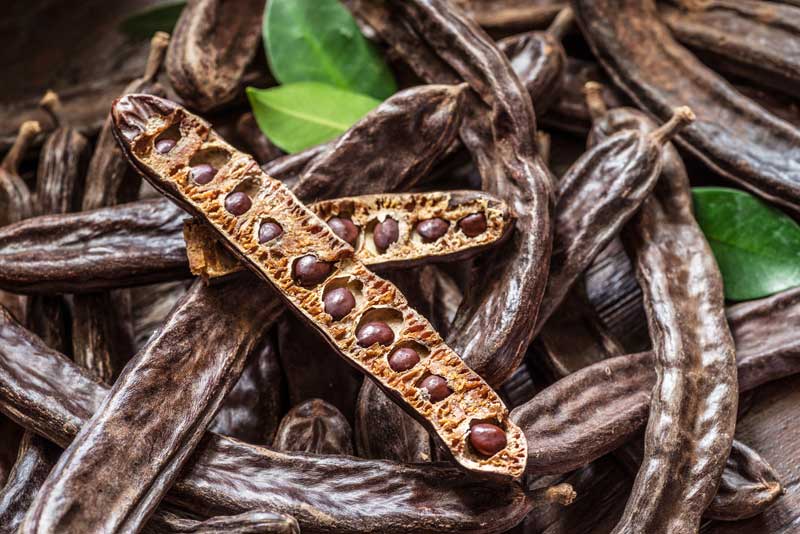 Eventually, in 1907, at the Fourth General Conference on Weights and Measures, the term "carat" was officially appointed as a measuring metric for gemstones. Nowadays, the term "carat" is used for diamonds, whereas the term "karat" is used to describe the purity of gold.
While diamond carat is an important quality to consider when purchasing a diamond, it's important to find a balance between each of the 4Cs, including understanding how they interact with one another.
If a diamond has been graded low for cut quality or clarity, for example, but is 2 carats, then it may not look very appealing despite its weight.
Diamond Size Chart: Carat Weight to mm
While we've established that carat and size are not the same, it is still useful to understand how carat weight can affect the visible size of a diamond.
The table below shows the average diameter of a round diamond, starting from 0.25 carat to 5 carats:
| Carat weight | Diameter |
| --- | --- |
| 0.25 | 4.1mm |
| 0.5 | 5.2mm |
| 0.75 | 5.8mm |
| 1.00 | 6.5mm |
| 1.50 | 7.4mm |
| 2.00 | 8.2mm |
| 5.00 | 11.1mm |
It can be easier to understand the relationship visually, so here are each of those diamond sizes shown next to each other:

As you can see, the relationship between carat weight and diameter is not linear – a 1 carat diamond is not double the diameter of a 0.5 carat diamond and won't appear to be twice as large, because the weight is distributed throughout the entire stone not just the surface area.
It's important to note that these measurements only apply to round diamonds and that these measurements are only approximate – they may vary depending on the individual diamond.
How Diamond Shape Affects Diamond Carat and Visible Size
Some diamond shapes look bigger than others, even at the same carat weight.
For example, elongated shapes like ovals and marquise diamonds are shallower than round diamonds, which gives them more 'spread' and makes them appear larger when viewed from the top.
Conversely, shapes that are cut deeper, like Asscher cuts, face up smaller than round cut diamonds.
The image below shows how each of the 10 most common diamond shapes compare to a R.2 coin at 5 carats: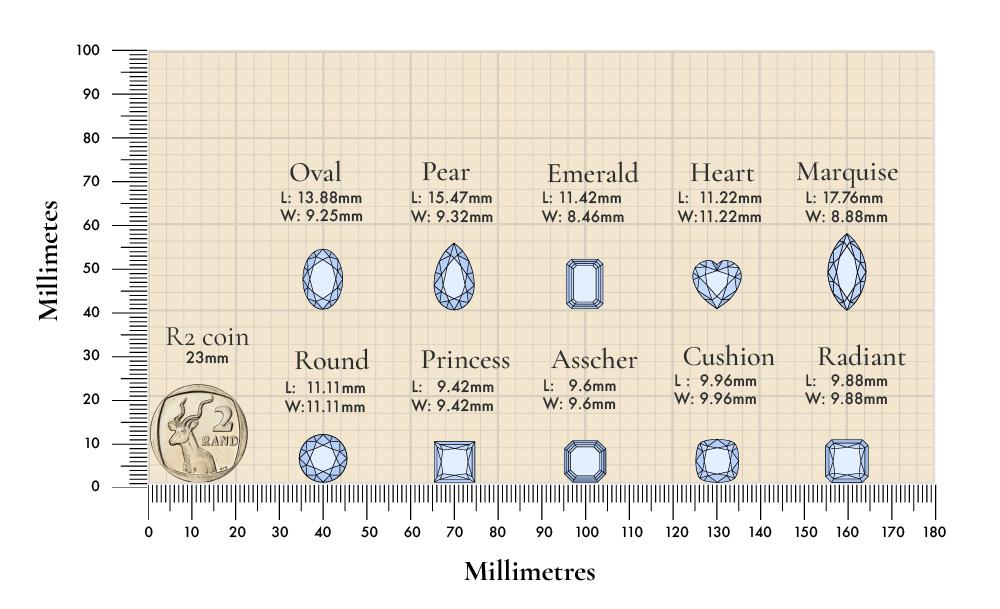 One thing to bear in mind is that these are just average sizes, and there can be significant variation in size between different diamonds at the same carat weight.
Take for instance these two diamonds from a South African retailer – they have the same shape (oval) and carat (1.2 carats), but their size is different.
The first is 8.06 mm long, 5.57 mm wide, and 3.66 mm deep:
 While the second is 8.41 mm long, 5.78 mm wide, and 3.75 mm deep:

The second diamond is around 5% longer and wider, despite weighing the same, and as a result would look noticeably larger once mounted in a ring setting.
How Diamond Carat Affects the Price and Value of a Diamond
As you might expect, the bigger the carat, the more expensive the diamond. At first glance, you may assume that the price of diamonds increases linearly with carat weight ie. a 2 carat diamond would be twice as expensive as a 1 carat diamond.
However, this is not the case – as the size of the diamond increases, so too does the price per carat.
Diamonds between 0.01 and 0.90 carats range usually have approximately same price per carat. However, once carat weight increases above 0.90 carats, the price can drastically increase.
Depending on the quality, a two carat diamonds can be as much as four times the price of a one carat diamond with identical cut, colour, and clarity.
We can see this increase by comparing a round diamond with Very Good cut, VS1 clarity, and J colour across several carat weights, with prices sourced from a Sydney-based jeweller:
| Carat weight | Approximate price (ZAR) | Price per carat (ZAR) |
| --- | --- | --- |
| 0.5 | R.17,000 | R.34,000 |
| 1 | R.76,000 | R.76,000 |
| 2 | R.355,000 | R.177,500 |
While these specifications may not be what you are looking for, it's a good illustration that price per carat increases as the carat weight increases. While a 1 carat diamond with these specs is around R.76,000 per carat, a 2 carat diamond is around R.177,500.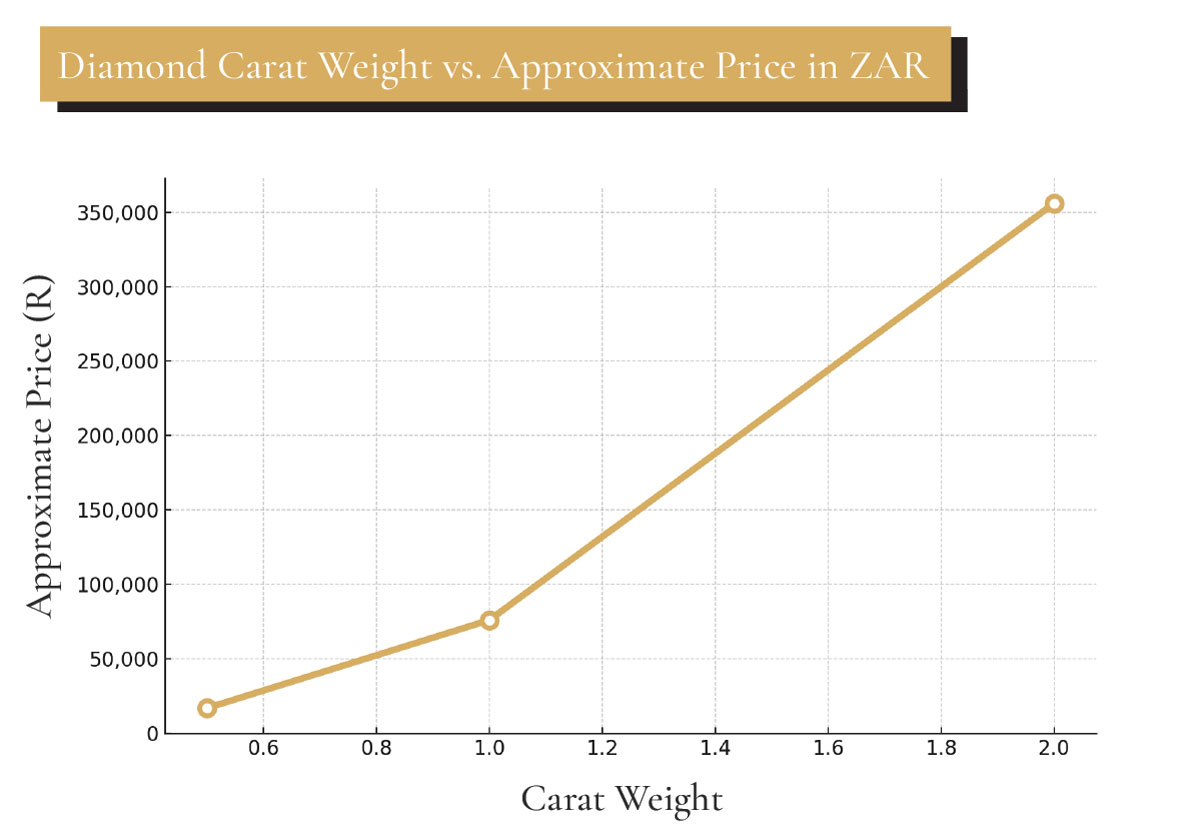 This increase in price per carat is due to the rarity of larger diamonds – while small diamonds are relatively common, larger ones are rare to find in nature. Consequently, as a diamond's size increases, its price can inrease exponentially.
Lab-Grown Diamonds vs. Natural Diamonds: How Carat Weight Affects Price
Lab-grown diamonds and natural diamonds are measured in exactly the same way.
However, lab-grown diamonds can be priced anywhere from 40 to 60% lower than natural diamonds, which means you could choose a higher carat weight for the same price.
As an example, we'll compare two round diamonds that have been graded F for colour, VS2 for clarity, and Excellent for cut at a South African diamond specialist:
A natural 1-carat diamond with these specs is priced at R142,999: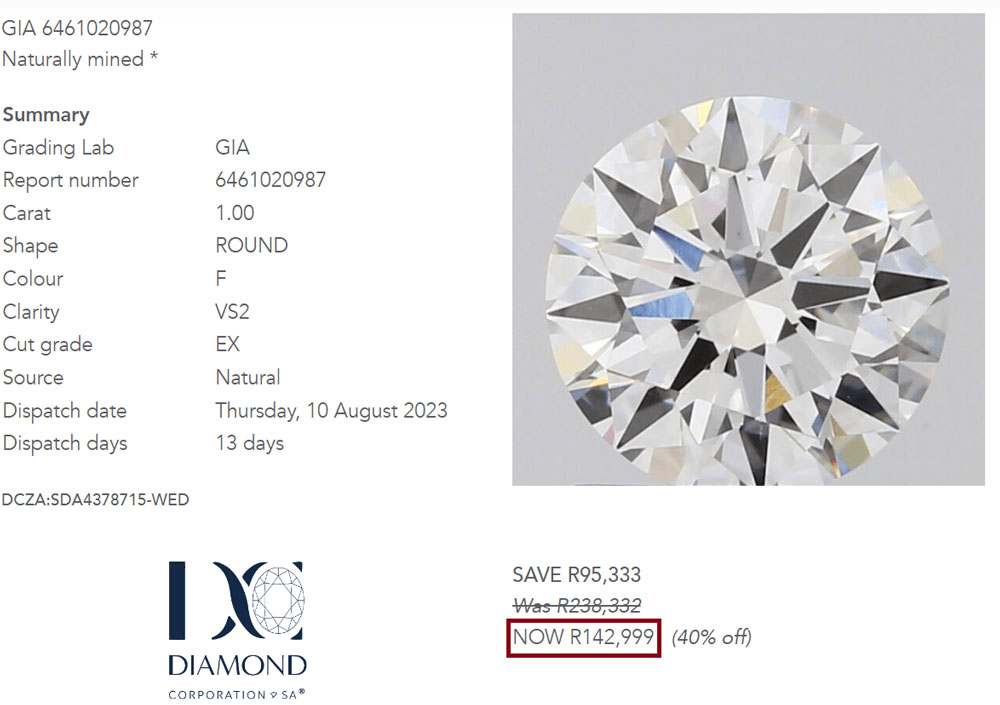 However, the same budget can stretch to a 3.1-carat lab-created diamond with the same specs.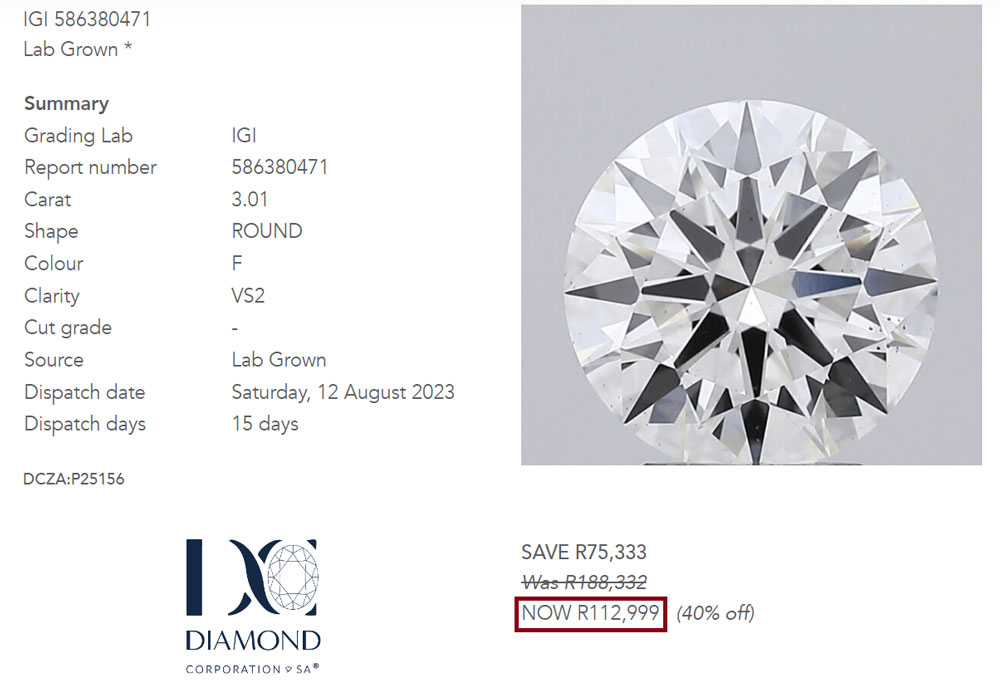 The significant price difference allows a buyer to opt for a larger carat weight within the same budget if they choose a lab-grown diamond. In this case, a buyer could acquire a diamond more than three the size of a natural diamond for the same price.
This is primarily because of the efficiencies of lab-based production. Instead of mining, which involves substantial costs and potential environmental damage, lab-grown diamonds can be produced in a much more cost-effective manner.
Choosing between a lab-grown and a natural diamond ultimately comes down to individual preference. Some people value the ancient formation and the mystique surrounding natural diamonds. Others appreciate the value for money and the environmental benefits that lab-grown diamonds offer. Either way, both types of diamonds can create beautiful pieces of jewelry.
It's worth noting, however, that while you may be able to get more carat weight for your money with a lab-grown diamond, resale values for these diamonds can be lower than for natural diamonds. If future value is a concern, this may be a consideration. But for those who value size and sustainability over potential future resale value, a lab-grown diamond can be an excellent choice.
Finding the Right Diamond Carat Weight for You
The right carat weight for you depends on several factors, including your style, preference, and budget. It's also important to consider how each of the 4Cs interact with each other and how they will affect your overall budget.
If we look at a theoretical budget of around R.300,000 we can see how adjusting each of the 4Cs will affect the carat weight that can be reached. This may not be your budget, but the examples are just intended to illustrate the different ways that a budge could be spent.
For example, an excellent cut diamond that had been graded high for colour (E) and clarity (IF), our R300,000 budget would allow for a 1.21-carat diamond: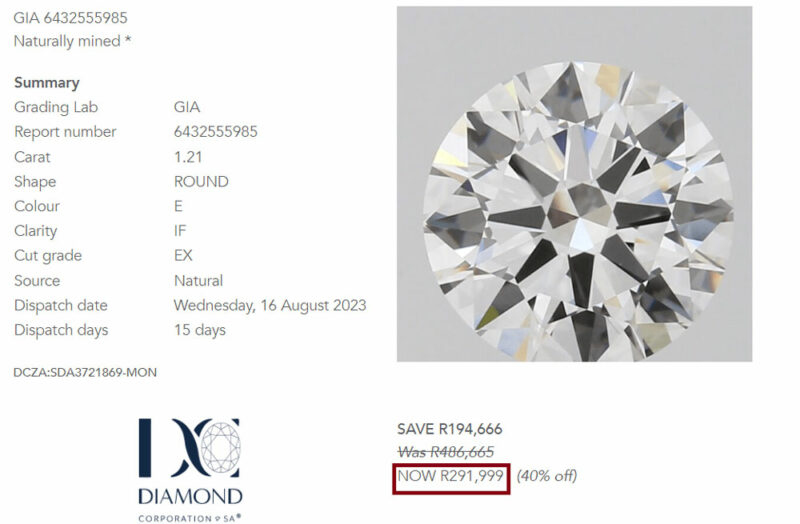 If we reduce the colour to H and clarity to VS2, our budget can stretch to a 1.82-carat diamond:
For many, this would be an optimal combination of quality and carat weight..
Prioritising carat weight further would mean that compromises would need to be made in other areas.
If you are looking for a 2 carat diamond with a budget of around R.300,000, the colour would need to be reduced to J and the clarity to SI1: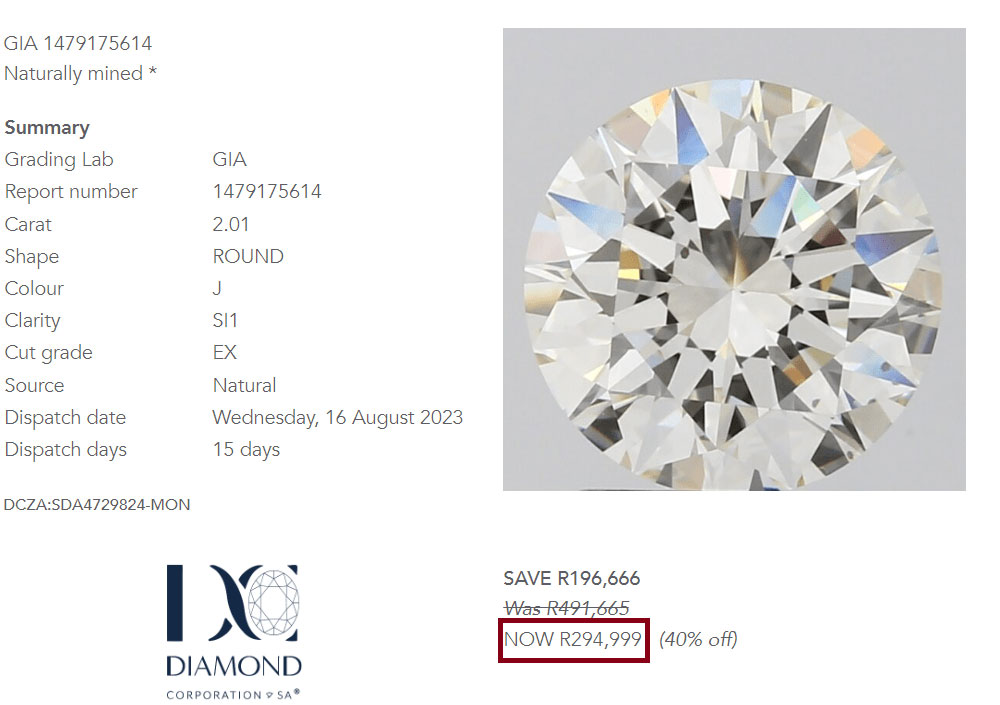 While this diamond will look larger, it may have visible inclusions, noticeable colour, and would sparkle less than the 1.82 carat diamond.
Choosing the right carat for you is a personal choice and one that is important to weigh together with the other 4Cs to find the best balance of beauty, value, and visual size.
There are several things to think about then it comes to choosing what carat weight is right for your engagement ring:
Personal preferences and style: Consider the wearer's tastes and preferences when selecting a diamond. Some people may prefer a larger diamond and be happy to sacrifice colour or clarity, while others may prefer a more modest and understated look, but with more of a focus on the quality of the diamond.
Finger size and proportion: Take into account the wearer's finger size and proportion when selecting a carat weight. A larger diamond might look overwhelming on a smaller finger, while a smaller diamond could appear underwhelming on a larger finger. Diamond shape can also make a big difference here – as mentioned earlier, elongated shapes like oval diamonds can look larger than round or princess cuts.
Lifestyle and daily activities: If the ring-wearer has an active lifestyle or a job that involves using their hands frequently, a smaller carat weight may be more practical and comfortable.
Budget: Ensuring that the carat weight youre aiming for is realistic for your budget, while still finding a balance between carat weight and the other 4Cs is key to getting a beautiful ring without spending too much. One way to maximise the carat weight can be to select a lab-grown diamond rather than a 'natural' mined stone.