There are 10 distinct shapes of diamond commonly used for jewellery, each of which can give a very different feel due to their geometry, level of sparkle, and their perceived size relative to carat weight.
Before we get started, it should be noted that it's common to confuse diamond shapes with diamond 'cuts'.
Within the 4Cs, diamond 'cut' is actually a measure of how well a diamond has been shaped and how well it is likely to sparkle, whereas 'shape' refers to the diamond's overall form.
Part of Jewellery South Africa's "Diamonds Insights" Series, this guide will give you an overview of each shape, their benefits and drawbacks, and then show you how each shape compares when it comes to size, sparkle, and cost. 
How to Choose a Diamond Shape
To choose the right diamond shape for you, there are several factors to consider, such as personal preference, budget, and style.
Style
Diamond shapes can reflect your personal style and the message you want your diamond to convey.
Round cut diamonds, for example, are often associated with tradition and timeless elegance, while princess cuts are contemporary and chic.
If your style leans towards vintage or antique aesthetics, an Asscher or cushion cut can provide old-world charm.
Similarly, heart-shaped diamonds can express a strong romantic sentiment and may be perfect for a unique engagement ring or a Valentine's Day gift.
Budget
Just like the 4Cs of diamonds, diamond shapes also play a role in the price of the diamond.
Round brilliant diamonds, while offering maximum sparkle, are typically the most expensive due to their demand and the fact that more of the rough diamond is lost when cutting them.
'Fancy' shapes, like emerald, cushion, and Asscher, can be more affordable as there is less wastage of the rough diamond and they can be easier to cut.
Choosing a less common shape can give you a combined bonus of a more distinctive ring at a lower price.
Finger Length
The diamond shape you choose can complement your hand's shape and size.
If you have shorter fingers, you might consider elongated shapes like oval, pear, or marquise to create the illusion of length.
On the other hand, if you have long, slender fingers, round or princess cut diamonds can help create a balanced look.
Perceived Size
The shape of a diamond can influence how large it appears in relation to its actual carat weight.
Elongated shapes, like the oval, marquise, and pear cuts, have a larger surface area, which can make the diamond appear larger when viewed from the top.
This is a great way to maximise perceived size while potentially saving money, as these shapes can be less expensive than round cuts of the same carat weight.
Durability
If you live an active lifestyle, or if your job requires a lot of hands on work, certain diamond shapes might be more practical. Shapes with rounded corners or edges, such as round or cushion cuts, are less likely to chip or snag on clothing. If you prefer pointed shapes, like the princess or marquise, you might need to choose a setting that offers additional protection to these vulnerable points, like a bezel or a V-prong setting.
Round Brilliant Diamonds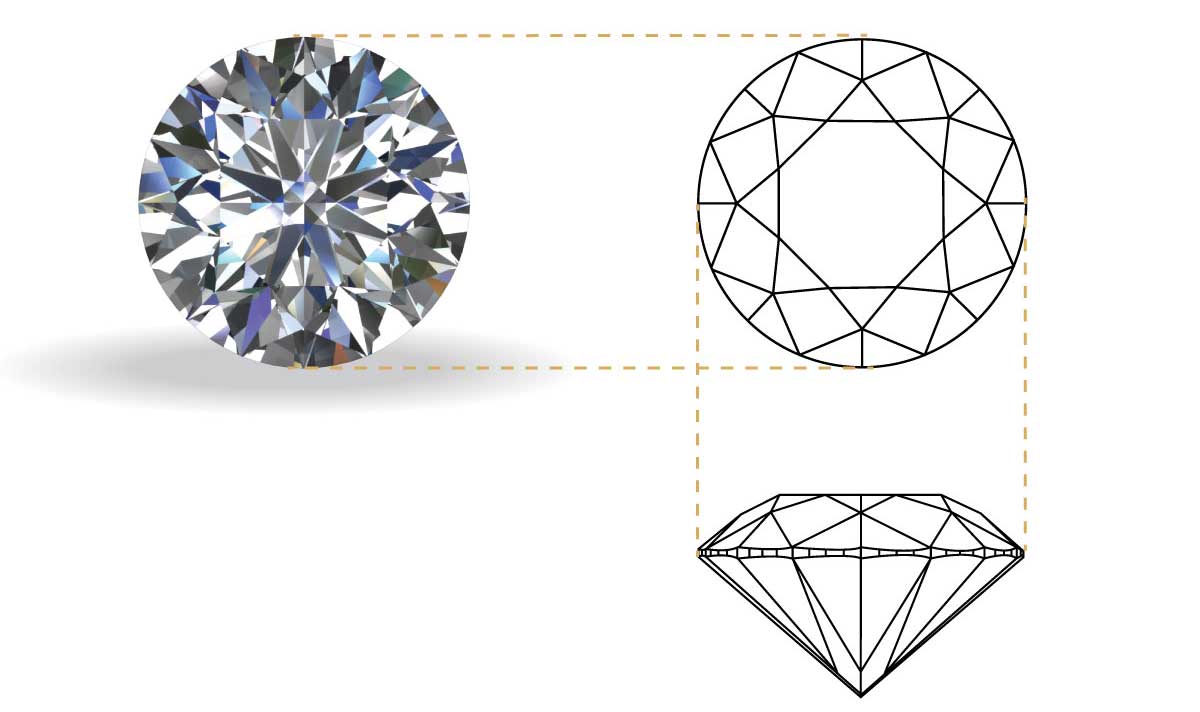 The round diamond is the most recognisable and most popular diamond shape – it accounts for approximately 75% of all diamonds sold worldwide.
Round cut diamonds trace their history back to the 17th century when diamond cutters began experimenting with more complex cutting techniques. This exploration led to the development of the 'old European cut,' an earlier version of the round cut that is occasionally found in today's market.
The modern round shaped diamond, as we know it today, was perfected in 1919 by Marcel Tolkowsky, a French mathematician. Tolkowsky's cutting method was revolutionary as it prioritised the diamond's brilliance rather than trying to optimise the diamond to look as large as possible.
The primary reason for the round brilliant diamond's popularity is its incredible sparkle. This shape is designed to maximise the amount of light that is returned, making it the most brilliant of all diamond shapes. Comprising 58 facets that reflect and refract light, the round diamond has an eye-catching appearance that sets it apart.
Additionally, round diamonds offer great versatility. Their classic and timeless look complements various jewellery styles, from vintage to contemporary – whether you prefer an old-world charm or a modern aesthetic, a round diamond can suit your preference.
While round diamonds optimise brilliance, they might not always seem as large as other cuts of equivalent carat weight. For example, marquise or oval cuts can appear bigger due to their stretched shape, even though they match a round diamond's carat weight.
If you're seeking a diamond shape that possesses similar brilliance to a round diamond but with a modern touch, consider the oval and pear diamond shapes. These options maintain comparable light performance while offering a unique aesthetic appeal.
One key thing to take into account when considering round brilliant diamonds is their price compared to other shapes. Their high demand and the significant waste generated during cutting render them pricier than other shapes of the same carat weight.
On the subject of diamond grading, it's important to know that round diamonds are the only diamonds that are graded for diamond cut quality by the Gemological Institute of America (GIA). This grade helps you understand the cut's quality and the likelihood that it will sparkle well. Other diamond shapes, known as fancy shapes, don't receive a GIA cut grade, which can make comparisons more difficult.
Round diamonds are also compatible with a wide range of settings. They look great in prong and cathedral settings, and they're a popular choice for solitaire settings where a single diamond takes centre stage. If you prefer a more elaborate design, consider adding side stones to complement the round diamond centrepiece.
Pros
Brilliance: Round diamonds are cut to maximise light return, resulting in exceptional sparkle.
Versatility: Classic design complements many jewellery styles and settings
Durability: No sharp corners make round brilliants less prone to chipping & well-suited being worn every day
Cut Grading: GIA provides cut grades for round diamonds, which can you understand
Cons
Price: Due to high demand & the amount of rough diamond lost during cutting, round diamonds are more expensive than other diamond shapes
Popularity: While their popularity can be a positive trait (they can be easier to sell), it may also be a drawback for those seeking a more unique diamond
Size Perception: Round diamonds may not always appear as large as some other cuts, such as the marquise or oval.
Princess Cut Diamonds
Tracing their lineage back to the 14th century, square diamond shapes have significantly transformed over the centuries. However, it wasn't until 1980 that Betazel Ambar, Ygal Perlman, and Israel Itzkowitz unveiled the modern princess cut diamond that we appreciate today.
Second only to round brilliant diamonds in popularity, princess cut diamonds are popular for a range of jewellery, from engagement rings to stud earrings and pendants. One of their main attractions is their brilliance – they sparkle more than other square and rectangular diamond shapes.
One thing to look for in a princess cut diamond is a high-level of symmetry in addition to being a well-proportioned diamond, as both of these factors will affect how much the diamond sparkles.
Although princess cut diamonds share a high level of brilliance with round diamonds, they are typically more affordable, making them a good choice for anyone seeking a diamond that delivers on sparkle without breaking the bank.
Pros
Brilliance: Exceptional brilliance compared to other square shapes, and second only to round diamonds.
Affordability: Compared to round diamonds, princess cut diamonds tend to be more affordable due to less wastage of the rough diamond during cutting
Hides Inclusions: Princess cut diamonds are good at hiding inclusions, which allows buyers to opt for lower clarity grades
Cons
Fragile Corners: Sharp corners can be prone to chipping, which requires specific settings that can protect these corners.
Colour Visibility: While princess cuts can hide inclusions well, they might show more colour, especially in the corners.
No Official Cut Grade: Princess cut diamonds don't have an official cut grade from the GIA which makes cut quality more challenging
Cushion Cut Diamonds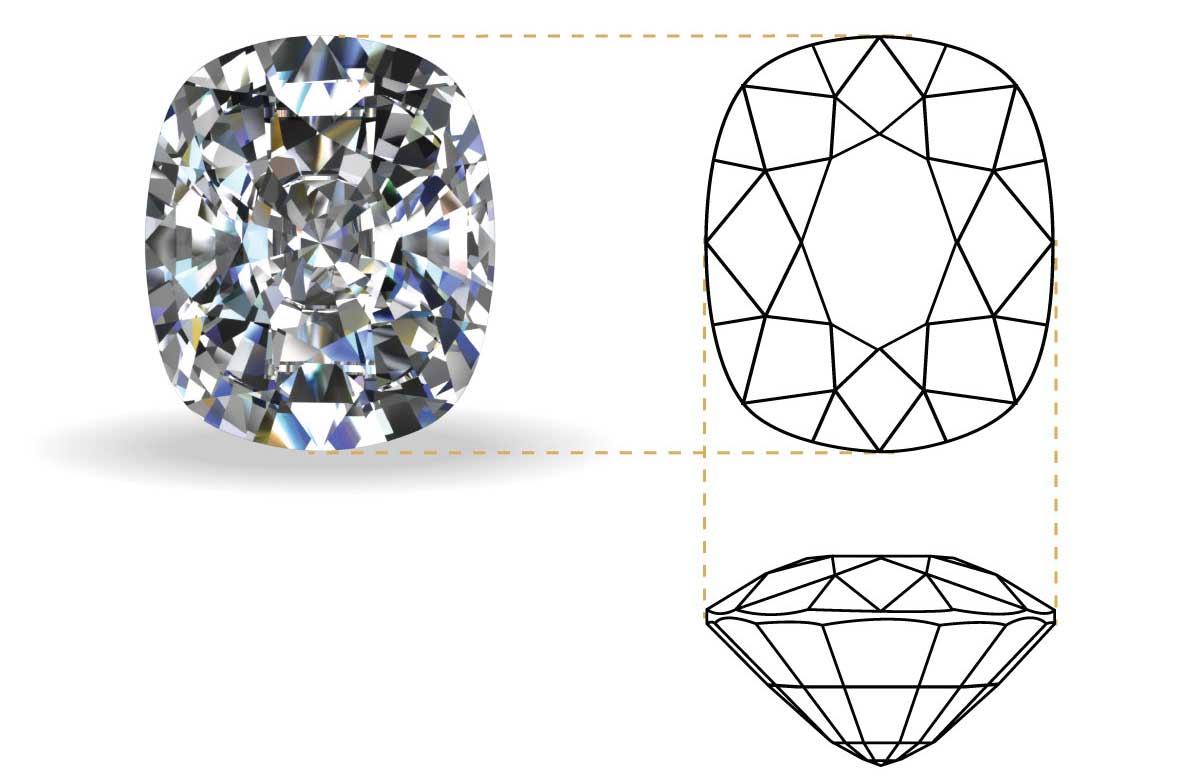 Cushion cut diamonds have been a popular choice since the 1800s. Named after their pillow-like shape, these diamonds have square or rectangular outlines with rounded corners, offering a wide variety of looks.
The structure of a cushion cut diamond typically includes 58 large facets, which delivers a distinctive light play compared to other cuts, which can present in very different ways, like the 'crushed ice' and 'chunky' styles.
'Crushed ice' cushion cuts have many small facets, creating a look similar to shattered ice. On the other hand, the 'chunky' cushion cut features larger, distinct facets, offering a clearer, more glass-like appearance. Both styles have their appeal and can alter the diamond's overall look significantly.
Cushion cuts are commonly paired with certain ring styles, such as the signature V or hidden halo settings. These settings work well with the cushion cut, emphasising its brilliance without overshadowing its vintage appeal.
Cushion cut diamonds bear some resemblance to radiant and oval diamonds, both of which also display a high level of brilliance. If you want a more modern shape but like the cushion's brilliance, consider radiant cuts.
Pros
Versatile: A range of length-to-width ratios, from square to more rectangular, offer flexibility in design
Vintage Appeal: Rounded corners and unique facet pattern give it a classic, vintage feel
Price: Cushion cuts are often less expensive than round brilliant or princess cut diamonds because less of the rough diamond is wasted during cutting.
Cons
Inconsistent Look: Unlike some other cuts, cushion cuts don't have a standardised facet pattern, meaning that the look and sparkle of two cushion cut diamonds can vary greatly
Face-up Size: Due to their rounded corners, cushion cuts may appear slightly smaller than other diamond shapes of the same carat weight when viewed from the top
More Likely to Show Colour: Cushion cut diamonds tend to hold more colour than other cuts.
Oval Cut Diamonds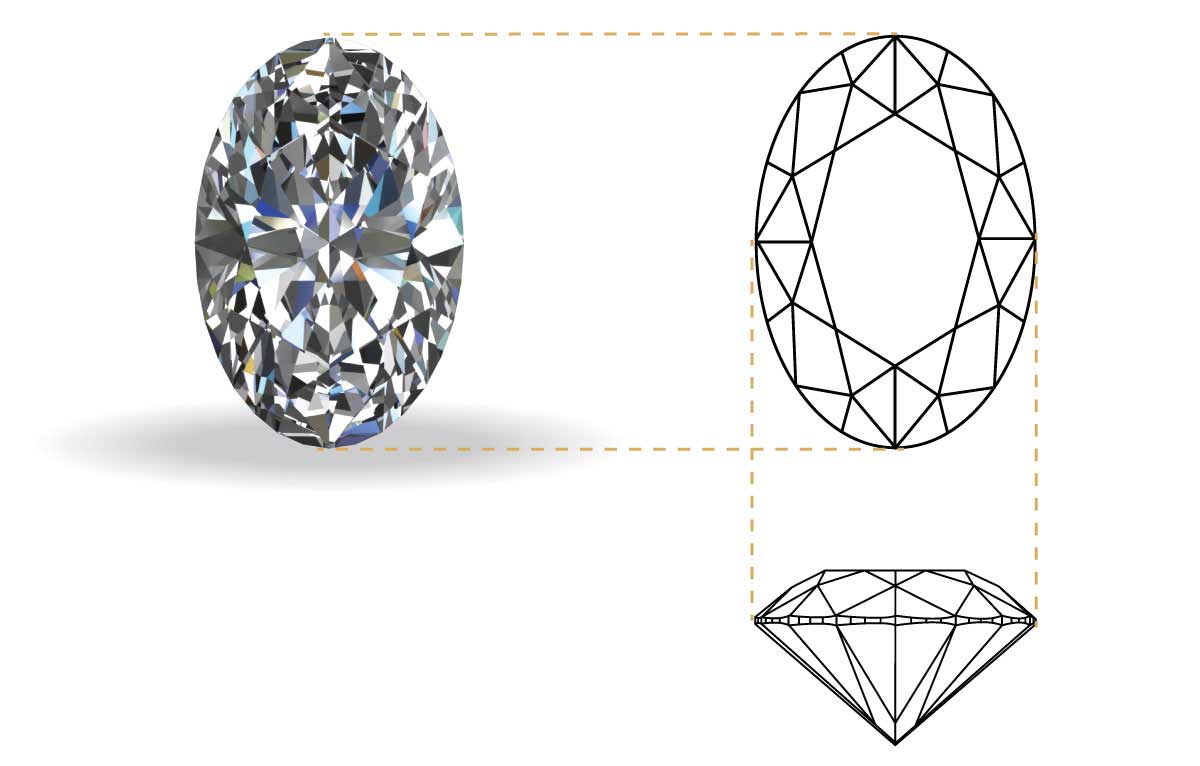 The oval cut diamond has been steadily increasing in popularity in recent years, as a result of its elegant and elongated silhouette.
First emerging in the 1960s, the oval cut is basically a modified and elongated version of the classic round brilliant cut. As a result, it boasts the same 58 facets as a round brilliant diamond, symmetrically arranged to maximise the diamond's ability to reflect light and enhance its brilliance and fire.
One of the main attractions of an oval cut diamond is the optical illusion it creates – because of its elongated form, the diamond appears larger and longer than most other shapes at the same carat weight.
This is particularly attractive to buyers who wish to maximise their diamond's visible size without significantly stretching their budget.
However, it's worth noting that oval cut diamonds can sometimes display a 'bow-tie' effect – a dark shadow across the diamond's middle, which can resemble a gentleman's bow-tie. Although all oval diamonds will show some degree of bow-tie effect, a well-cut diamond will minimise its appearance.
The look of an oval diamond can also change substantially based on its length-to-width ratio, which can vary from 1.3 to 1.6.
The 'best' length-to-width ratio for an oval cut diamond depends largely on personal preference, as the ratio impacts the overall shape and appearance of the diamond. That being said, a length-to-width ratio between 1.35 and 1.50 is often considered the most ideal or traditional for oval cut diamonds, as this range gives the diamond a balanced, symmetrical look.
A diamond with a ratio less than 1.35 will appear more round, while a diamond with a ratio greater than 1.50 will appear more elongated. These variations can create unique looks and might be preferred based on individual tastes or specific jewellery settings. It's always a good idea to view a few different diamonds with varying ratios to determine what best suits your preferences and requirements.
In terms of durability, the oval cut's rounded edges reduce the risk of chipping, making it an excellent choice for those leading active lifestyles. Furthermore, when it comes to price, oval diamonds are often less expensive per carat than their round counterparts, offering potential savings for budget-conscious buyers.
Pros
Size Perception: Oval diamonds appear larger than other diamond shapes, providing good value for money
Brilliance: Oval diamonds are basically stretched round brilliant diamonds, which means they exhibit a high degree of brilliance
Flattering Shape: Elongated shape can make the wearer's fingers appear longer and slimmer
Cons
Bow-Tie Effect: Oval diamonds often a dark area in the centre that looks like a man's bow-tie
Cut Consistency: Unlike round diamonds, cut standards for oval diamonds aren't as well defined, meaning quality can vary
Colour Retention: Like other elongated diamond shapes, oval cuts may show more colour towards the tips
Emerald Cut Diamonds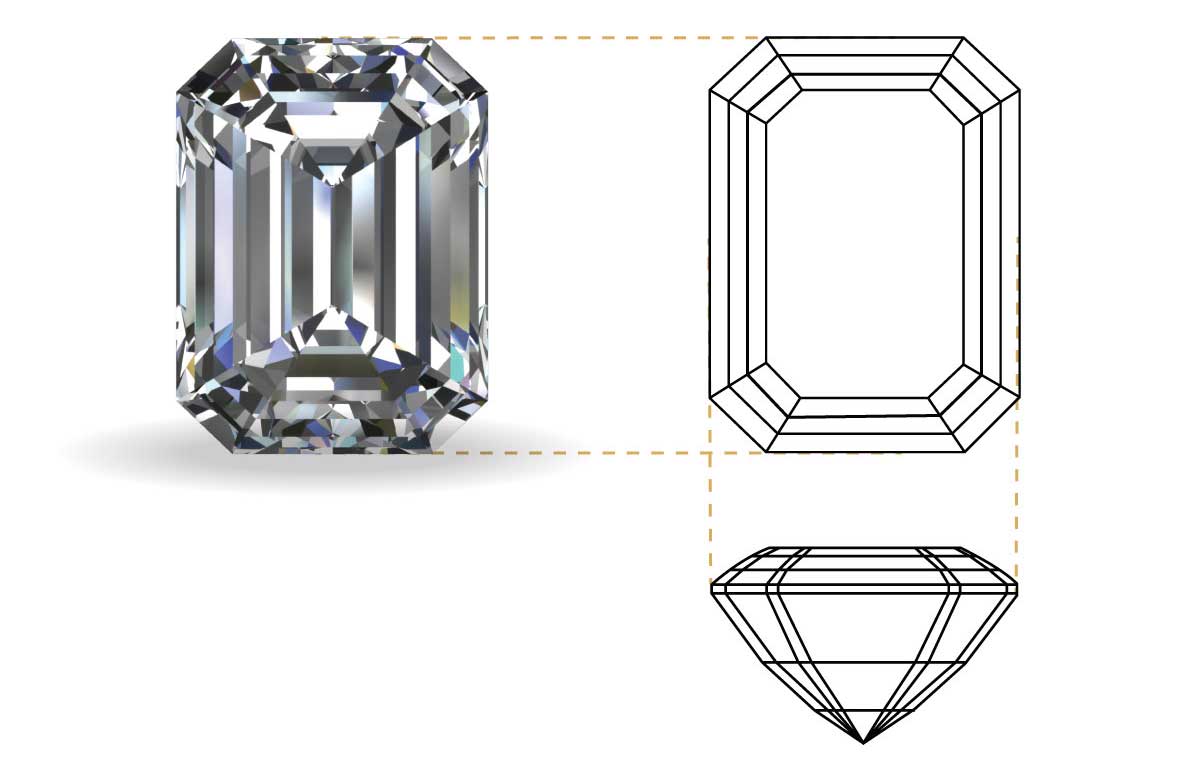 The emerald cut diamond, often seen on the red carpet or in royal jewellery collections, has an elegant rectangular shape that stands out due to its step-cut facets. These facets create a 'hall-of-mirrors' effect that can give an emerald cut fantastic lustre as the light bounces off each of the internal facets.
The flip side of this is that the increased transparency means that a higher-clarity diamond can be needed for an emerald cut compared to 'brilliant cut' shapes which are better at hiding inclusions.
This cut, first used in the 1500s, was originally designed for emeralds – hence its name. However, it soon gained popularity for diamonds, partly because it means that less 'raw' diamond is lost during the cutting process and it is an easier shape to cut than many others, reducing the risk of damage.
Another benefit of the elongated shape and large table of the emerald cut is that it often creates the illusion of a larger size than other diamond shapes of the same carat weight. This shape is versatile and suits various hand sizes and shapes, often giving the fingers a longer and slimmer appearance.
However, the emerald cut does emphasise colour and show inclusions more than other cuts, particularly in larger sizes. This could mean opting for higher colour and clarity grades to maintain a clear and colourless appearance. The emerald cut's large, open facets can make flaws more visible, so working with an expert gemologist to choose a stone where the inclusions are less noticeable could be beneficial.
While the emerald cut is less deep and presents a larger surface area for its carat weight, it tends not to sparkle as intensely as cuts like the round brilliant, princess, or oval. This may appeal to those who prefer a more subdued shine. Finally, the cornered edges of the emerald cut require a setting with prongs on each corner to protect the diamond from chipping. This combination of features is what makes the emerald cut a unique and sophisticated choice.
When selecting a setting, the simple solitaire is a great choice, as it allows the diamond's unique features to take centre stage. The emerald cut also works well with yellow gold settings, giving the ring a vintage touch. For a softer look, a rose gold setting is another appealing option.
What sets the emerald cut apart is its cost-effectiveness compared to a round brilliant cut of the same carat size. It gives more diamond for your budget because it requires less of the 'raw' diamond to be cut away during the crafting process.
Pros
Value for Money: Typically less expensive than other shapes because they use more of the raw diamond during the cutting process, reducing waste
Illusion of Size: Elongated, large table creates the illusion of being larger than other diamond shapes
Unique Appearance: The 'hall-of-mirrors' effect, a result of the step-cut facet pattern, gives the emerald cut a distinctive, elegant look
Versatility: Elongated shape of the emerald cut can make the fingers appear longer and more slender
Cons
Clarity: Large, open facets can make inclusions more visible - higher clarity make be required to ensure a clean appearance
Colour: Colour may also be more apparent due to the open table - higher colour grades may be needed, especially in larger carat weights
Lack of Brilliance: Emerald cut diamonds don't sparkle as much as other shapes - instead they exhibit a subtle, understated glow
Radiant Cut Diamonds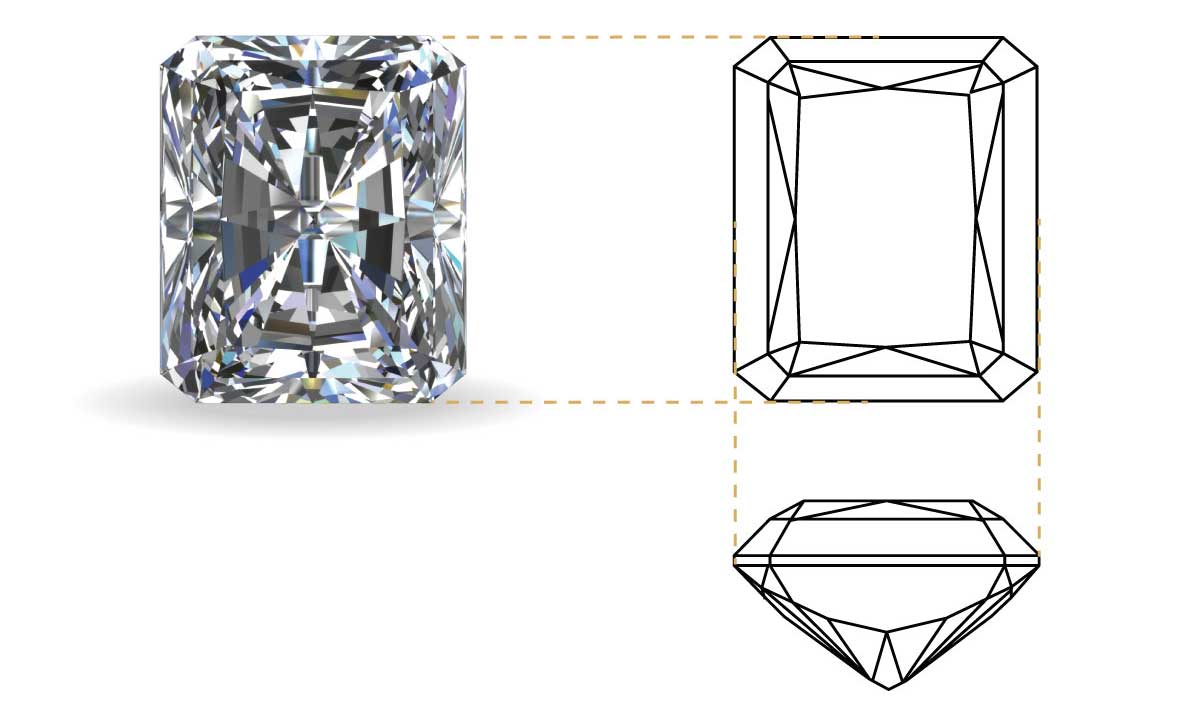 The radiant cut is a unique, hybrid diamond shape that brings together some of the best features of the round, princess, emerald, and cushion cuts.
First conceived in 1977 by New York diamond cutter Henry Grossbard, his aim was to merge the elegance of square cuts with the stunning fire found in modern diamond cuts.
Identified by its square or rectangular form with bevelled corners, the radiant cut has brilliant-cut facets, which deliver excellent fire and sparkle. However, it's worth noting that the carat weight of radiant cut diamonds is often concealed in the lower part of the diamond due to their depth. This might cause the diamond to appear smaller when viewed from the top.
Radiant cut diamonds come in both square and rectangular shapes, with the choice often down to personal preference. Square radiant cuts tend to have a length-to-width ratio of 1.00 to 1.05, while rectangular ones range from 1.15 to 1.50.
Rectangular radiant diamonds offer some of the elegance of an emerald cut, but with significantly more brilliance. Due to their faceting pattern, radiant cut diamonds also disguise inclusions and colour better than step-cut diamonds, like the emerald and Asscher cuts, although in larger carat sizes colour may still be slightly more noticeable than in round cuts.
The radiant cut's versatility is one of its strong suits. It complements an array of settings and styles, from vintage to modern, and pairs well with many different types of side stones.
As for durability, the trimmed corners of radiant cut diamonds render them less susceptible to chipping than square or rectangular cuts with pointed corners. This feature adds to their appeal to those who lead an active lifestyle.
Pros
Unique Brilliance: Mixed cut combining the features of both brilliant & step cuts delivers exceptional fire and brilliance
Versatility in Shape: Available in square or a rectangular shape, which suits a variety of settings
Conceal Inclusions Well: Brilliant facet pattern can hide inclusions more effectively compared to step-cut diamonds, like the emerald cut or Asscher cut.
Value for Money: Often priced lower than other brilliant cuts like the round or princess cut, making it a budget-friendly option that still delivers a high level of sparkle
Cons
Depth Hides Carat Weight: A lot of the carat weight hidden in the base of radiant cuts, which can make the diamond appear smaller when viewed from above
Colour Visibility: Despite handling colour better than step-cut diamonds, colour in radiant cut diamonds may be more noticeable than in brilliant cuts
Inconsistent Cut Standards: Cut quality can vary more widely with radiant cuts compared to other shapes due to less standardised grading. It's important to closely review the diamond's proportions and symmetry when selecting a radiant cut.
Pear-Shaped Diamonds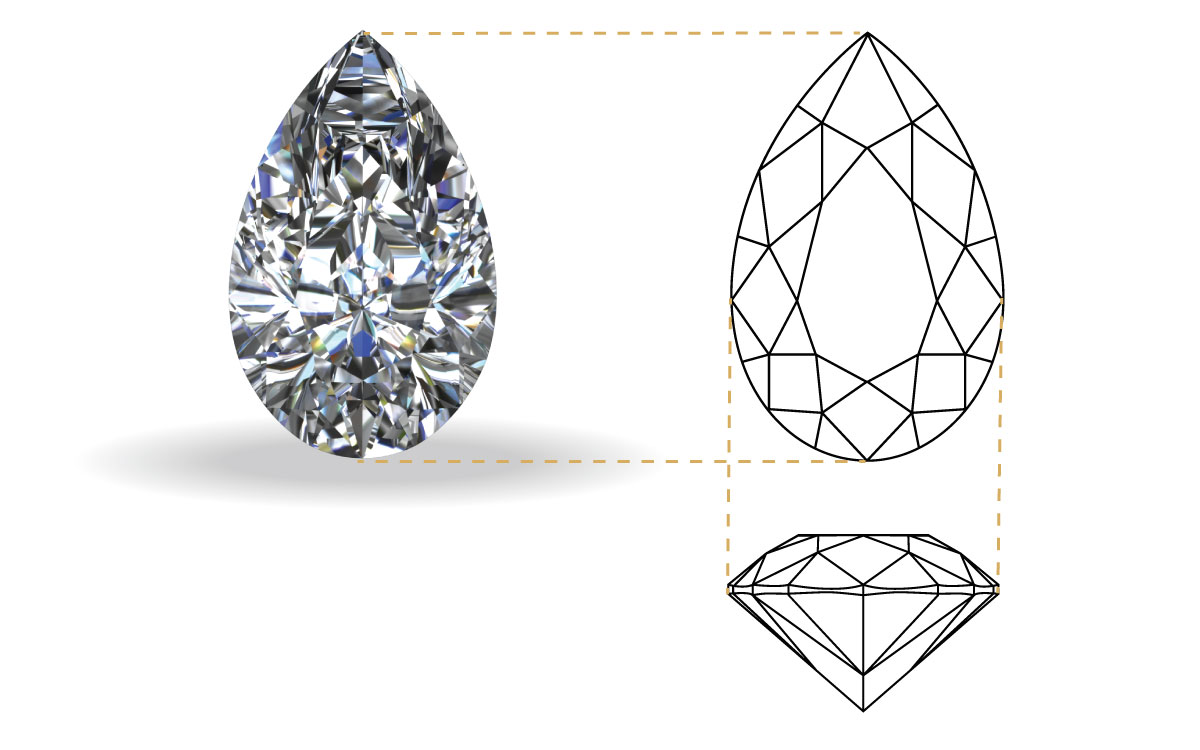 The pear-shaped diamond has a shape that's reminiscent of a teardrop, with a rounded edge and a pointed end giving a streamlined and elegant look. This shape not only makes a striking impression but can also lend a slimming effect to the wearer's hand.
The invention of the pear cut can be traced back to the 15th-century Flemish diamond cutter Lodewyk van Bercken. He developed a diamond polishing tool known as the scaif, which made it possible to craft more intricate diamond shapes. One of the first shapes to emerge from this innovation was the pear cut.
One notable feature of the pear cut is its versatility. The ring setting can swing its look from modern to vintage, suiting different tastes. This cut works well with a range of settings like the solitaire, bezel, and halo.
As with the oval diamond, the length-to-width ratio of pear diamonds can differ, which means that two diamonds at the same carat weight can look very different. Pear diamond length-to-width ratios are generally between 1.45:1 and 1.75:1, with the 'classic' ratio being around 1.5:1.
Most pear cut diamonds display what's known as the 'bow-tie effect', a darker area running across the width of the diamond. The visibility of this effect can be influenced by the cut quality, and ideally, it should be minimal or hardly noticeable.
Given the facet pattern and shape of pear cut diamonds, they can sometimes reveal colour and imperfections near the tip more readily than other shapes. For this reason, it's often beneficial to opt for a higher colour and clarity grade for this shape.
Symmetry is important in pear cut diamonds – the shape should be balanced, and the point must align well with the peak of the rounded end. When it comes to settings, the delicate pointed end of the pear cut should ideally be protected by a prong to guard against potential damage.
As with any diamond, it's crucial to ensure your pear cut diamond is certified by a reputable lab such as the GIA, AGS, or IGI. This certifies the characteristics of your diamond and guarantees its quality.
Finally, there's no 'correct' way to wear a pear diamond, but changing the direction in which the pear shape is worn – with the point facing towards or away from the wearer – can significantly change the look of the ring.
Pros
Unique Appearance: Provides a distinctive and elegant look that sets it apart from more traditional shapes.
Elongates the Finger: Elongated design can make the wearer's fingers look longer and more slender.
Larger Appearance: Often appear larger than their actual carat weight
Cons
Bow-tie Effect: Can exhibit a bow-tie effect, where a dark shadow appears across the width of the diamond - the quality of the cut will determine how noticeable this is
Fragile Point: Pointed end can be prone to chipping and requires proper protection in the setting
Inconsistency in Shape: Pear shape can vary greatly between diamonds, from more elongated to rounder
Symmetry Considerations: Careful consideration of symmetry needed, as an imbalance in the curves can affect overall appearance.
Marquise Cut Diamonds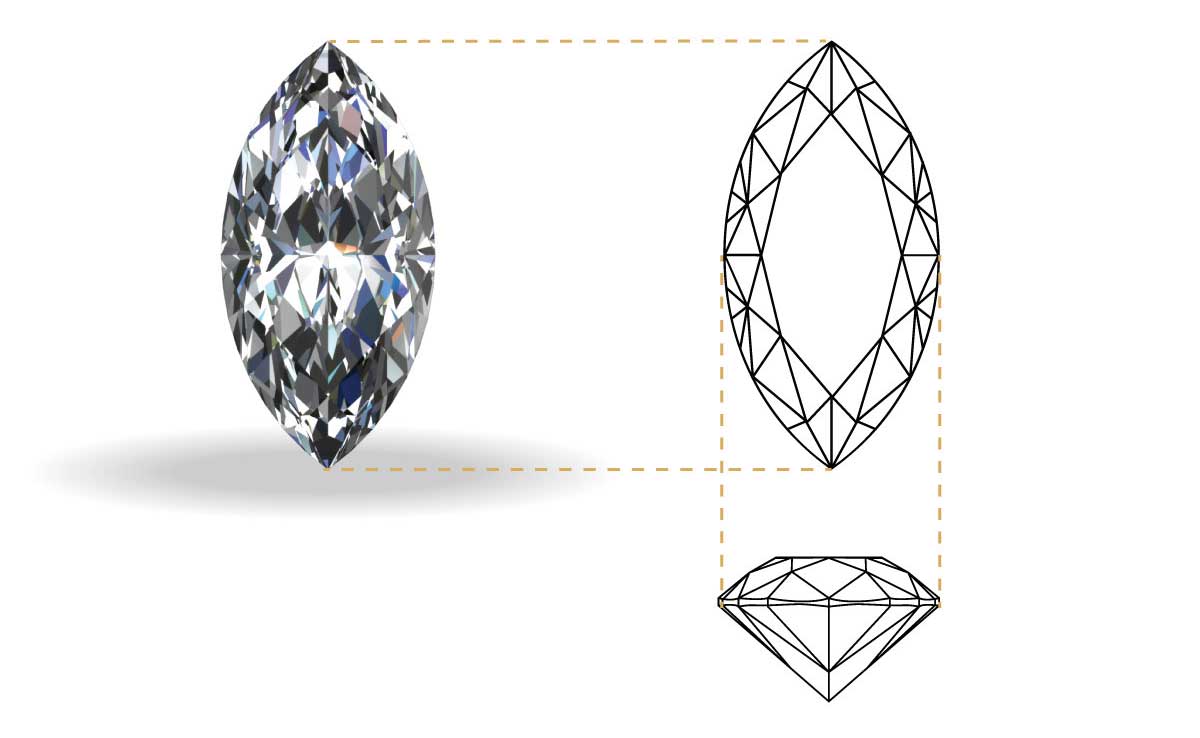 Originating from the court of King Louis XIV of France in the 18th century, the marquise cut diamond is characterised by its elongated form – apparently the king commissioned this cut to mimic the perfect shape of his mistress's mouth.
Due to their elongated shape, marquise diamonds 'face up' amongst the largest of any diamond shape for a given carat weight, which can make it a compelling choice for those wanting to maximise visible size without paying for extra carat weight.
Depending on the exact length-to-width ratio, which typically ranges between 1.75:1 and 2.25:1, a marquise cut diamond can appear either slim or more rounded. The preferred ratio is largely a matter of personal taste, so it's worth exploring different options to find the shape that appeals to you most.
One characteristic that's worth noting about marquise cuts is the 'bow-tie effect' – a darker area running across the width of the diamond. Its visibility can fluctuate depending on the diamond's cut quality, and a well-cut marquise diamond will have a bow-tie that is barely visible.
Like other fancy shapes with pointed ends, marquise cut diamonds may exhibit colour and inclusions more readily, particularly towards the tips. This means you might want to consider choosing a diamond with higher colour and clarity grades. The pointed ends of this cut can also be susceptible to chipping, so a setting that adequately protects these vulnerable areas, such as a six-prong setting, would be advisable.
Traditionally, marquise diamonds pair well with a three-stone setting, which not only enhances the symmetry of the cut but also creates an impression of width, increasing the stone's perceived size even further.
The symmetry of a marquise cut diamond is paramount to its appeal. Both pointed ends should perfectly align with each other, and each side should mirror the other. A well-proportioned marquise diamond will have more brilliance and aesthetic appeal.
In terms of value for money, a marquise cut diamond often comes up trumps. The cutting process of this shape usually results in less waste of the rough stone, which can make the marquise cut a more cost-effective option compared to the round or princess cuts.
Pros
Elongated Appearance: The unique shape gives an illusion of greater size, meaning the diamond appears larger than its actual carat weight
Finger Elongation: The elongated shape of the marquise cut can make the wearer's fingers appear longer and more slender
Brilliance: Faceting pattern is designed to maximise the reflection and refraction of light, leading to a high degree of brilliance
Cons
Bow-tie Effect: Often exhibit a dark area across the width of the diamond. The visibility of this varies with the quality of the cut.
Fragile Ends: Sharp ends can be prone to chipping or breaking, so they must be protected by the setting
Shows 'Poor' Quality More Readily: Inclusions, colour grading, and poor cut quality are more noticeable than in some other cuts
Asscher Cut Diamonds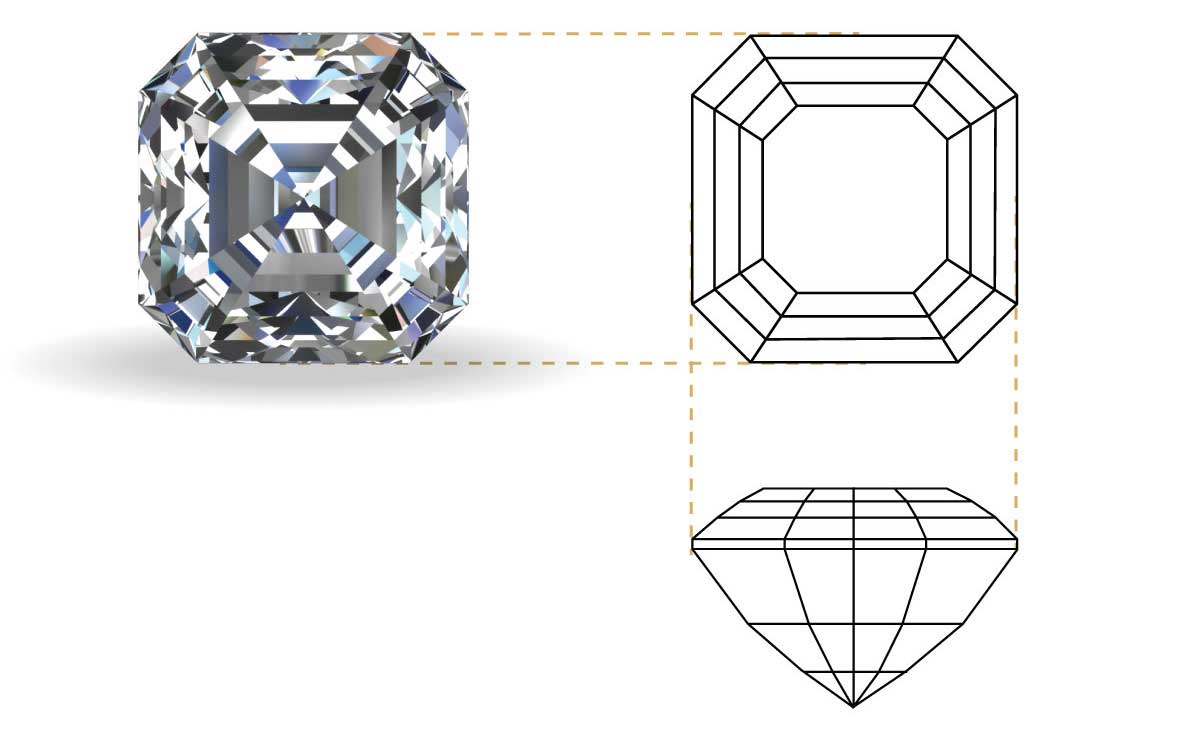 Dating back to the early 20th century, the Asscher cut diamond is a product of the celebrated diamond cutter, Joseph Asscher.
This vintage-inspired cut, characterised by its square shape and bevelled corners, was especially popular during the Art Deco movement, and many rings featuring Asscher cut diamonds evoke this era.
The Asscher cut features 58 step-cut facets arranged in such a manner as to create a mesmerising 'hall-of-mirrors' effect. This design allows for the striking interplay of light and shadows, making the Asscher cut a truly unique choice. The crisp angles and prominent corners of this cut lend it an enduring, timeless quality.
When choosing a setting for an Asscher cut diamond, the accent setting or solitaire setting are particularly suitable. A thin band, in either of these settings, can help emphasise the distinctive shape of the Asscher cut diamond, allowing it to truly command attention.
However, the unique faceting of the Asscher cut can expose inclusions and any colour in the diamond. Therefore, it's crucial to consider these factors when purchasing this cut. Higher clarity and colour grades are generally recommended.
Additionally, the Asscher cut's symmetrical design, with its precise alignment of facets, makes it important to seek a well-cut stone. An off-balance cut can distort the 'hall-of-mirrors' effect and impact the overall appearance of the diamond. Therefore, as with any diamond purchase, certification from a reputable lab is highly recommended.
It's also important to note that the Asscher cut, due to its intricate design and smaller table, may not offer the same level of brilliance or 'sparkle' as other cuts, such as the round brilliant or princess cut.
Asscher cuts, due to their unique and vintage appeal, may be less commonly found in mainstream jewellery stores compared to more popular shapes like the round or princess cut. This exclusivity, while adding a touch of individuality, may also limit options when it comes to selection.
When considering value for money, the Asscher cut usually provides good value, as it requires less wastage of the rough diamond during cutting. However, this value may be offset if higher grades of clarity and colour are selected to compensate for the cut's transparency.
In terms of fashion trends, the Asscher cut's vintage-inspired design can lend itself well to a variety of ring styles, from antique settings to more contemporary designs. It's a versatile cut that can be tailored to suit various tastes and styles.
Despite its lower levels of brilliance compared to other cuts, the Asscher cut offers a depth and complexity of its own, making it a distinctive and attractive choice for those seeking something a little different from the mainstream options.
Pros
Unique Appearance: Distinctive, vintage look, with symmetrical geometry & step-cut faceting
Less Wastage: Makes efficient use of the raw diamond, meaning more carat weight is retained & prices are lower
Versatility in Styling: Vintage design suits a wide array of ring styles, from antique settings to contemporary
Exclusivity: Less commonly found in mainstream jewellers, which adds a touch of individuality & exclusivity
Cons
Inclusions more noticeable: A higher clarity grade is generally necessary, potentially increasing cost
Cut Quality: Symmetrical alignment of facets is critical - any discrepancy in the cut can easily be noticed
Lack of Brilliance: Although its light performance is distinctive, the Asscher cut does not provide as much brilliance or 'fire' as other popular cuts
Less Selection: While the rarity can contribute to its appeal, it can also mean fewer options to choose from
Heart-Shaped Diamonds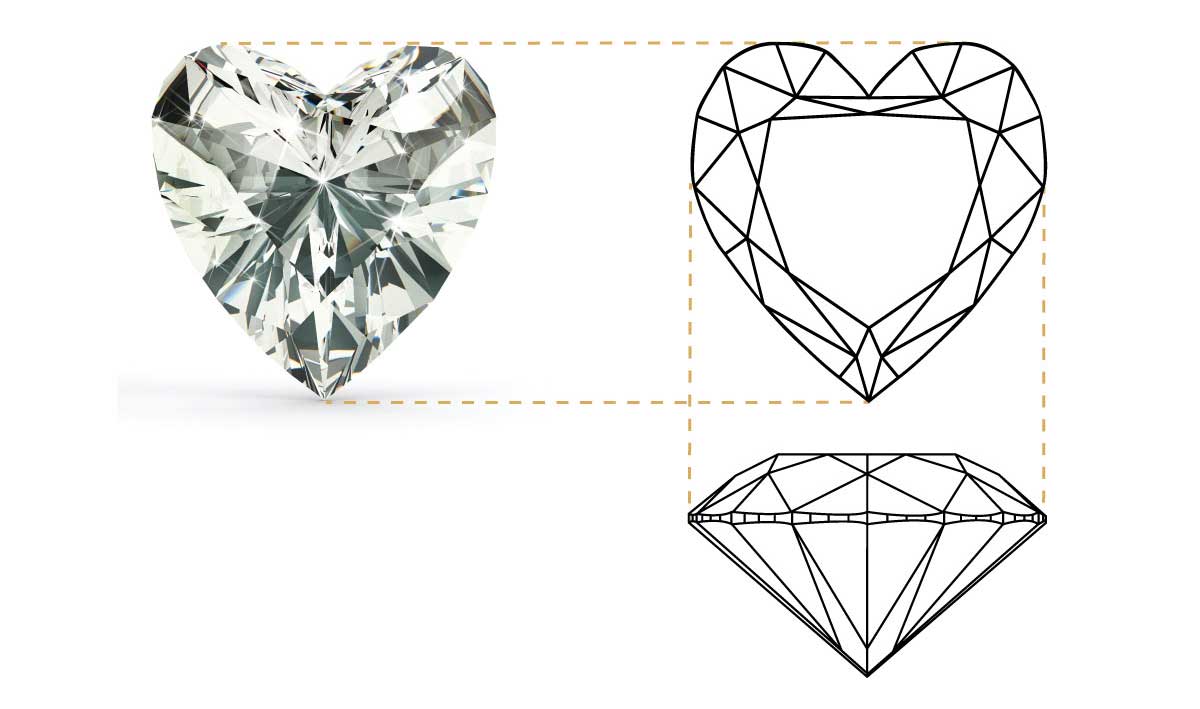 The heart-shaped diamond is a unique and meaningful cut, often chosen for its symbolism of love and affection. With a rounded end and a distinctive cleft, it forms the classic heart silhouette we all recognise.
The heart shape has a rich history, with its first known reference in 1463 by the Duke of Milan. This shape soon gained popularity among nobility, enhancing its romantic and prestigious reputation.
For an engagement ring, a heart-shaped diamond can be a truly special choice, echoing sentiments of love and commitment. A classic prong setting usually suits this shape best as it not only secures the diamond, but also allows enough light to enhance the diamond's sparkle.
However, there are several points to consider with a heart-shaped diamond. The cut's quality is crucial: both halves of the heart should be symmetrically balanced, and the cleft should be sharp and defined for it to truly resemble a heart.
The heart shape is complex to cut and smaller versions of this cut may not retain the full heart shape when viewed from a distance. Therefore, it works best in larger carat sizes or when used in a piece viewed up close, like a pendant.
The heart-shaped diamond's strong romantic symbolism might not appeal to everyone, particularly those who prefer more traditional or understated shapes. It's worth knowing the recipient's personal style and preference before making a choice.
Finally, the complexity of the heart's shape could mean higher costs due to the intricate cutting process and possible wastage of the diamond rough. But, when compared to the ever-popular round cut, heart-shaped diamonds can offer a greater carat weight for a similar price, representing good value.
When choosing a heart-shaped diamond, consider the length-to-width ratio for a balanced, classic heart shape – usually between 0.9 and 1.1. Watch out for the 'bow-tie effect', a common characteristic in fancy diamond shapes that can reduce brilliance. Well-cut heart-shaped diamonds can minimise this effect.
The point and cleft's quality can significantly impact the diamond's overall look. Look for a well-defined cleft and point. Besides the prong setting, other styles can also enhance a heart-shaped diamond's beauty. A three-stone setting with smaller diamonds on the sides can accentuate the heart shape, while a bezel setting can provide a modern look.
Finally, remember that heart-shaped diamonds, especially those with a pointed end, might require special care to prevent chipping. Certain protective ring settings can help with this.
All in all, the heart-shaped diamond's charm and emotional symbolism make it a standout choice for those wanting a diamond that's both unique and meaningful.
Pros
Symbolic: The heart shape is universally recognised as a symbol of love, making it a meaningful choice for romantic pieces like an engagement ring
Distinctive: Stands out in a crowd of traditional round or square cuts, showcasing the wearer's individuality
Faces Up at a Good Size: Thanks to its elongated shape, a heart-shaped diamond may appear larger than other diamond shapes of the same carat weight.
Cons
Cut Quality: Achieving symmetry and a clear heart shape requires a skilled diamond cutter. Variations in quality can significantly affect the diamond's appearance
Size Matters: In smaller carat weights, the distinctive heart shape may not be clearly visible, particularly when set in a ring and viewed from a distance
Durability: The pointed end of a heart-shaped diamond can be prone to chipping, requiring a protective setting and careful handling
How Diamond Shape Affects Size
As we alluded to earlier, some diamond shapes can create the illusion of being larger due to their specific cuts and proportions.
The perceived size of a diamond is basically how large it looks when viewed from above, as it would be seen when mounted in jewellery.
How big a diamond looks is affected by factors such as the length-to-width ratio, the depth percentage (shallow diamonds generally look larger), and the total surface area.
The diagram below compares the 10 most common diamond shapes at 5 carats to a R.2 coin: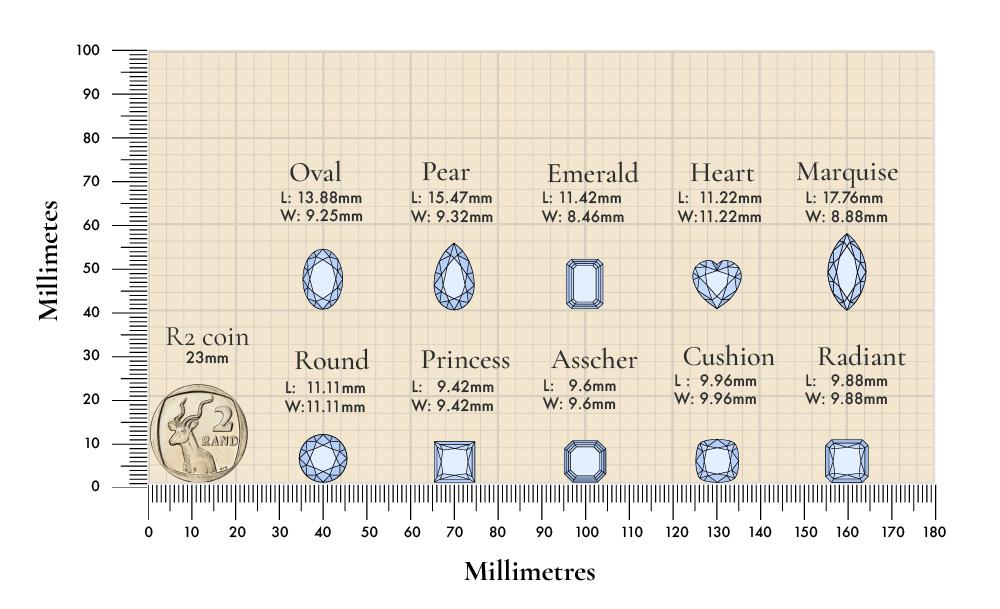 While you may not be looking for a 5 carat diamond, the relative difference between the different shapes will be similar at any carat weight.
Elongated diamond shapes like the marquise, pear or oval, can appear larger than their actual carat weight. This is because their lengthened and tapered points maximise the surface area, thereby enhancing the visual impact of the diamond's size.
Square-shaped diamonds, such as the Asscher, princess, and cushion cuts often look smaller compared to their actual carat weight. Their equal length-to-width ratio gives them a smaller diameter and surface area, making them appear more compact. Though they may seem smaller, these cuts offer other advantages such as brilliant sparkle and strong geometric lines. Therefore, if you are prioritising the perception of size, these might not be your first choice.
Round diamonds fall somewhere in the middle. Due to the constraints on their proportions and the cut assessment criteria, the 'face up' size of well-cut round diamonds varies far less than most other shapes.
Of course, size isn't everything when it comes to selecting a diamond. Each cut has its unique attributes, and it's crucial to consider other factors, such as the quality of the cut, the diamond's fire and brilliance, as well as your personal style and preferences. A well-cut diamond, regardless of shape, will always show its beauty and value in its fire, brilliance, and scintillation.
How Diamond Shape Affects Diamond Price
The pricing of diamonds is influenced not only by the raw material used but also by the complexity and labour involved in the cutting process. For example, round diamonds are often more expensive due to several factors: they are in high demand, the manufacturing process is labourious, and there is a higher level of 'raw' diamond waste when creating this shape – up to 60% of the original stone may be lost during cutting.
On the other hand, fancy shapes such as cushion, princess, and Asscher cuts are generally more affordable. They are less popular, and their cutting process results in less waste of the rough diamond, making them a cost-effective choice. However, it's essential to keep in mind that while these shapes may be less expensive, they might not exhibit the same level of brilliance as a round cut.
To illustrate the difference in price, we'll compare the pricing of a 1-carat, G colour diamond with VS2 clarity at a South African retailer:
| Diamond shape | Price (ZAR) | Difference (ZAR) | Difference (%) |
| --- | --- | --- | --- |
| Round | R.81,262 | | |
| Radiant | R.72,681 | R.8,581 | 11% |
| Cushion | R.68,478 | R.12,784 | 26% |
| Emerald | R.55,518 | R.25,744 | 32% |
The difference between the top and bottom price is quite significant – the emerald cut is a lot more affordable than the other diamond shapes.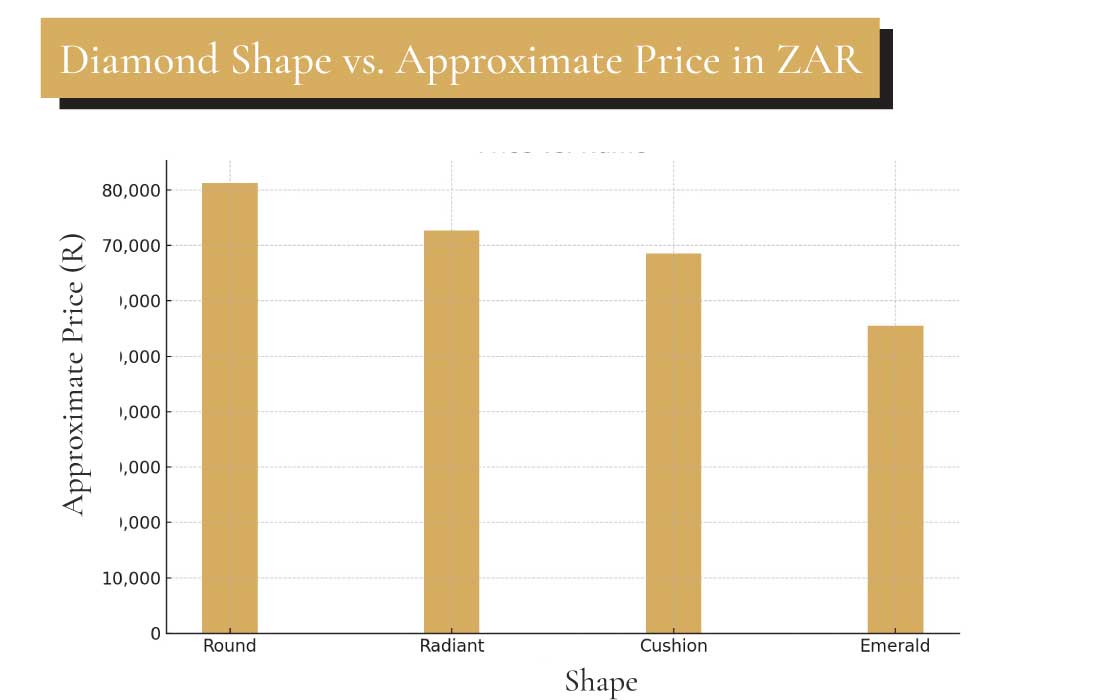 The shape of a diamond can, therefore, have a significant effect on the amount of budget that a buyer has available to allocate to each of the 4Cs – cut, clarity, colour, and carat – when making their choice.