Parisian jeweler FRED, a unit of luxury group LVMH, has introduced its first synthetic blue diamonds, named FRED Audacious Blue.
Known for its elegant and exquisite creations, the brand has ventured into the realm of lab-grown diamonds, marking a significant shift in its product offerings.
Limited-Edition Collection
The brand has released a limited-edition collection consisting of just four jewelry pieces, each containing a 0.50-carat blue lab-grown diamond in the brand's proprietary Fred Hero Cut.
Additionally, a loose 8.88-carat synthetic diamond of the same colour and cut has been unveiled. All five stones are fancy-vivid greenish-blue, have VS clarity or higher, and carry grading reports from the Gemological Institute of America (GIA).
The FRED Hero Cut
The FRED Audacious Blue diamonds are crafted with the FRED Hero Cut, a distinctive 36-facet design that aims to showcase the brilliance of the diamond.
The cut is intended to bring unparalleled fire and depth, with each facet revealing the diamond's dazzling brilliance. The Hero Cut, first unveiled in 2022, is symbolic of a boat sail combined with a shield and also pays homage to the company's founding year, 1936.
Force 10 Duality High Jewelry Set
The introduction of the synthetic blue diamonds has led to the creation of the Force 10 Duality High Jewelry set.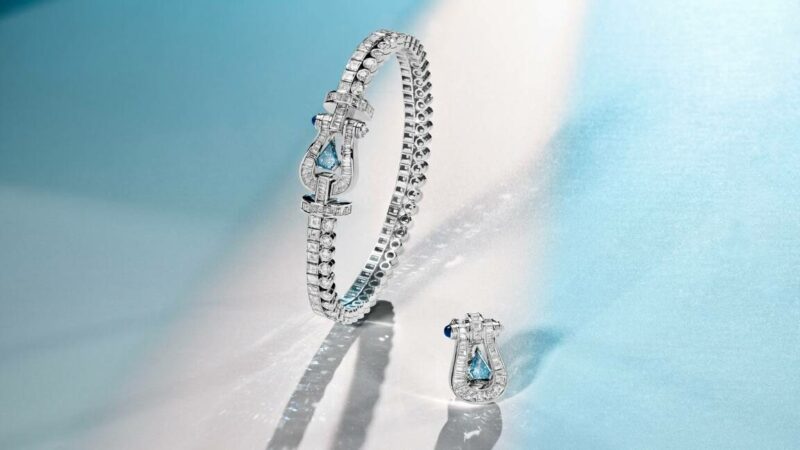 This collection combines synthetic blue diamonds with natural white diamonds, presenting a revolutionary approach to traditional jewelry design. The set is inspired by the brand's original Force 10 collection and is named Haute Joaillerie Force 10 Duality.
LVMH's Involvement in Lab-Grown Diamonds
Last year, LVMH Luxury Ventures invested in Israel-based lab-grown producer Lusix. Fred is the first of the LVMH brands to use lab-grown diamonds in a high jewelry collection.
Industry analyst Paul Zimnisky mentioned that Fred's approach in this endeavour is a good example of extracting value from the lab-grown concept, stating, "Doing something that's not found in nature, I think that's where the edge is going to be and that's where the opportunity is going to be."